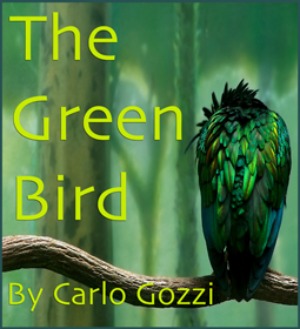 The Green Bird, the first production of the 2011-12 Vanderbilt Theatre Season premieres at Neely Auditorium at Vanderbilt University on Friday, Oct. 28, at 8 p.m.
Cast in the tradition of the commedia dell'arte, the play was written by Carlo Gozzi in 1765 and originally performed in Venice. This performance is based on the modern English translation by Albert Bermel and Ted Emery published in 1989. The Green Bird is set in the imaginary city of Monterotondo, among other locales. An evil queen, a dim king, an avaricious princess, twins in search of their heritage and a mysterious green bird are just a few of the characters who inhabit Gozzi's story. "While the play's fairy tale structure is familiar to us, the plot's twists and turns take us through wild adventures both funny and dark," says Leah Lowe, associate professor of theatre and the play's producer.
There will be several opportunities to catch a performance of this theatrical fantasy that has been compared to the Wizard of Oz. Show times include Oct. 28 and 29 at 8 p.m. and a matinee Oct. 30 at 2 p.m. Additional performances will be at Nov. 3, 4 and 5 at 8 p.m. and Nov. 10, 11 and 12 at 8 p.m.  Admission is $10 for the general public, $7 for graduate students and free for undergraduates with Vanderbilt identification. Tickets may be purchased at Neely Auditorium.
Built in 1925, Neely Auditorium, the Gothic style building that now houses the Vanderbilt Theatre's productions, was once the central meeting place on campus.  An extensive renovation in 1976 resulted in one of the most innovative experimental theatre facilities on any U.S. campus.
The next performance in the 2011-12 series will be Lillian Hellman's The Children's Hour on Feb. 17, 18, 19, 22, 23 and 24, 2012.  Call (615) 322-2404 for more information or visit www.vanderbilt.edu/theatre.
For more information about the 2011-12 Vanderbilt Theatre Season visit http://vanderbilt.edu/theatre/currentseason.