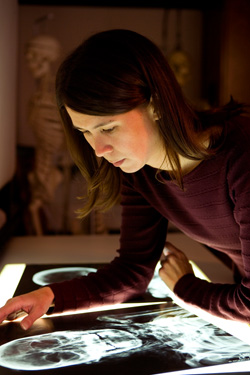 The Department of Anthropology's Tiffiny Tung was surprised with the 2011-12 Chancellor's Cup on Oct. 13 when Chancellor Nicholas S. Zeppos interrupted what Tung thought was to be a departmental meeting.
"I was so pleased when you came to Vanderbilt, and you have exceeded all expectations both in and out of the classroom," Zeppos said.
Tung, a bioarchaelogist, is known for her passion for studying past cultures through the clues found in mummies, skeletal remains and other artifacts.
Carolyn Dever, dean of the College of Arts and Science, lauded Tung for her time commitment in working with 27 different students on independent research projects and theses, many times conducted in far-off lands.
"(The students) do not simply learn from a textbook; they dig, they excavate, they get their hands dirty," Dever said. "They learn from (Tung) what it means to be a professional, what it means to work hard, to learn from the past and to respect the history of other cultures. … Our graduate students are rewarded with her presence."
Tung was presented an engraved silver bowl that bears the names of previous Chancellor's Cup honorees dating back nearly 50 years. The award is given annually for "the greatest contribution outside the classroom to undergraduate student-faculty relationships in the recent past."
Established by the Nashville Vanderbilt Chapter in 1963, the Chancellor's Cup is presented by the president of the club around Homecoming Week each fall. The award consists of a cash prize of $2,500 contributed by the club, an engraved pewter cup as a permanent trophy, and one year's custody of the silver bowl by Tiffany and Co. bearing the names of all recipients.