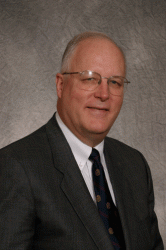 John E. Mayer Jr., professor of surgery at Harvard Medical School and senior associate in cardiac surgery at Children's Hospital in Boston, will address "The Medicare Physician Payment Crisis: A Surgical Solution" from 7 to 8 a.m. Friday, Oct. 28 in Light Hall, Room 208. Mayer's talk is the 33rd Annual Rollin A. Daniel Jr., M.D. Lecture.
The Rollin Daniel Lecture Series was established in 1977 to recognize the medical achievements of Daniel, who graduated from the Vanderbilt School of Medicine in 1933 and was known as the "father of thoracic surgery" in the Nashville surgical community. The Division of Pediatric Cardiac Surgery and departments of Cardiac Surgery and Thoracic Surgery are hosting the event.
For more information, contact Sharon Barker at (615) 936-5500 or email sharon.barker@vanderbilt.edu.
Contact: Sharon Barker, (615) 936-5500
sharon.barker@vanderbilt.edu