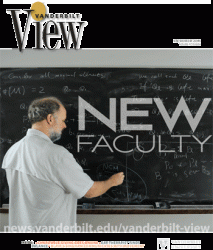 The October issue of Vanderbilt View – featuring profiles of select faculty new to campus, as well as a complete listing of all new faculty for 2011-12 – is available on stands and online now.
Other features include a conversation with Employee Assistance Program therapist Ellen Clark on finding work/life balance; a look back at Vanderbilt football coach Dan McGugin; Blair School of Music's Lyne Bingham shares an important part of her life story; and more.
Read the new issue here or pick up a copy from a campus newsstand today.