Enroll now for 2012 benefits
Oct. 5, 2011, 5:25 PM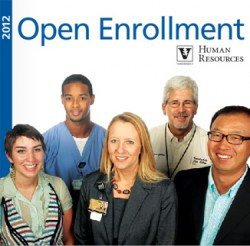 Open Enrollment is Oct. 1-14 and all benefits-eligible employees need to enroll. Even if you're keeping the same benefits for 2012, you still must enroll.
How to enroll
Get educated. Explore a variety of resources on the Open Enrollment website, including the new interactive eMagazine, to learn about your benefit options.
Enroll. Complete and submit the Open Enrollment Benefits Tool. You can enroll from any computer at any time. You'll need your VUnetID and ePassword to log in to the tool. You'll also need a printer to print your enrollment receipt.
Visit the Open Enrollment website for more information. If you have questions or need help, contact the Employee Service Center at (615) 383-7000 or human.resources@vanderbilt.edu.
Contact: (615) 383-7000
human.resources@vanderbilt.edu