Two chances to hear artist María Magdalena Campos-Pons Oct. 10 and 12
by
Kara Furlong
Oct. 5, 2011, 12:04 PM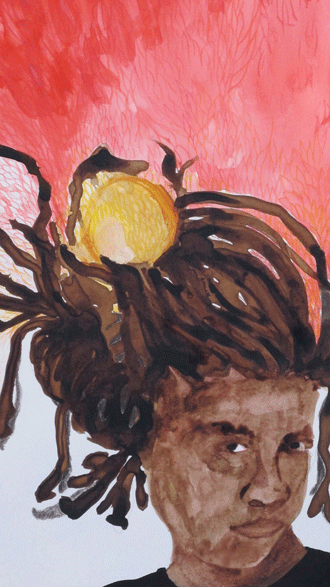 Renowned artist María Magdalena Campos-Pons will speak at 4:30 p.m. Monday, Oct. 10, in Cohen Memorial Hall, Room 203, as part of the StudioVU Lecture Series. The series, sponsored by the Department of Art, is free and open to the public.
The talk by Campos-Pons, one of the most significant artists to emerge from the Cuban post-revolutionary era, coincides with the opening of María Magdalena Campos-Pons: Mama/Reciprocal Energy at the Vanderbilt Fine Arts Gallery on Wednesday, Oct. 12. A panel discussion with the artist is scheduled for 5:30 p.m. Oct. 12 in Cohen Memorial Hall, Room 203, with a reception immediately following. The exhibition runs through Dec. 8.
While installation art, performance art, photography and cultural activism continue to define the core of Campos-Pons' work of the last two decades, the Vanderbilt exhibition will be the first that almost exclusively highlights her drawings. The drawings found within Mama/Reciprocal Energy are a direct reflection of Campos-Pons' exploration of themes central to her practice, such as identity, exile and displacement as an Afro-Cuban artist living in America.
"These are remarkably engaging works, many of which are monumental in scale and were created specifically for this exhibition," said Joseph Mella, director of the Fine Arts Gallery and curator of the exhibition.
For more information on the StudioVU lecture, visit the Department of Art website or call (615) 343-7241.
View the Vanderbilt Fine Arts Gallery's hours.