(Media Note: Vanderbilt has a campus broadcast facility with a dedicated fiber optic line for live TV interviews and a radio ISDN line.)
The Supreme Court should strike down President Obama's proposed expansion of Medicaid, says James F. Blumstein of Vanderbilt University Law School.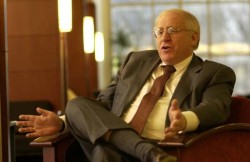 Blumstein, Vanderbilt's University Professor of Constitutional Law and Health Law and Policy, is available to discuss why he believes the federal government's intent to dramatically expand healthcare coverage in the United States is unconstitutional because it presents "substantial, unforeseeable and fiscally onerous changes" to the states.
Blumstein, who filed a brief in favor of the state's objections in the 11th U.S. Circuit Court of Appeals in Florida, believes that the plan violates the federal government's "clear-notice" obligation," based on the 1981 Supreme Court decision in Pennhurst State School & Hospital v. Haldermann.
"The law of contract draws a critical distinction between the contract-formation stage and the contract-modification stage," Blumstein said. "At contract formation, parties have maximum freedom to determine whether or not to enter into an agreement and to settle on the terms of that agreement. At contract modification, concerns about excessive leveraging significantly constrain the behavior of the contracting parties."
Blumstein argues that the unforeseen expense the federal government is attempting to get the states to take on through Medicaid expansion violates legal precedent because an existing contract is being modified so that "the fiscal implications of remaining in the program have been substantially and unforeseeably ratcheted up."
Blumstein believes that the federal government can only make the changes if it ends the current Medicaid program entirely, starts the new expanded program and then allows states to "opt in" if they choose. President Obama's plan allows for individual states to "opt out" of the expanded program.
"States would then be able to determine knowingly and voluntarily whether or not to participate in new Medicaid," Blumstein said.