Media Inquiries
Latest Stories
Religious scholar's journey takes him from Millersburg to Bangladesh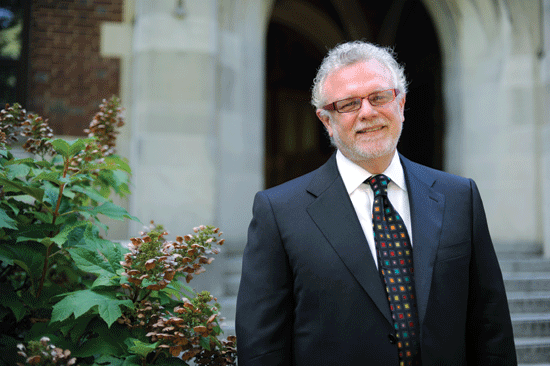 Tony Stewart performed an experiment when he arrived on the Vanderbilt campus.
"I asked everyone I ran into for directions to Religious Studies," he said. "Without exception, they told me how to get to the Divinity School."
Although they share a lot of intellectual territory, Religious Studies and the Divinity School are separate entities with different agendas. While the Divinity School has its own building, Religious Studies is based in Garland Hall.
The Department of Religious Studies, which Stewart began chairing this semester, does not prepare anyone for the ministry. It is an undergraduate major devoted to the academic study of religion. The Divinity School is a graduate school that prepares its students for various types of service, including the ministry.
Stewart, a specialist in the religions and literatures of the Bengali-speaking world, arrives at Vanderbilt with a reputation as a program builder. The founder of the Bangla Language Institute in Dhaka, Bangladesh, spent 25 years at North Carolina State University bolstering South Asian studies and religious studies.
During his career in North Carolina, Stewart nurtured a handful of faculty at Duke University, UNC-Chapel Hill and North Carolina State into the North Carolina Center for South Asian Studies, which grew to 72 faculty members and was named a Title VI National Resource Center for South Asia, the highest status awarded by the U.S. Department of Education for international studies.
"(Vanderbilt's Department of Religious Studies) has identified the religions of Asia as the area needing the most attention," Stewart said. "We are currently searching for a position in Buddhist traditions of South and Southeast Asia and religions of Japan. Coverage of contemporary Islam, Native American and Caribbean religious traditions will also be improved."
Raised in small-town Millersburg, Ky., Stewart was first interested in Asia because of his father's descriptions of Japan when he was a Marine in the occupation forces following World War II.
"[rquote]I found it fascinating just trying to understand people who are different," he said.[/rquote] "Also, I had a great-aunt named Flora Dodson who was a missionary to China for more than 50 years."
Despite that, Stewart's first major was accounting, and he came to the brink of sitting for his CPA exam before changing direction. He chanced into a course on Asian religions and found himself hooked.
"This was at Western Kentucky University in Bowling Green," he said. "On Friday nights while everybody else was out partying, I would drive down to Nashville and speak with Bengalis in the Indian community."
In between college and graduate school, Stewart decided to live in India for a time to see if he was on the right path. He has spent eight years off and on living in South Asia since.
In addition to his B.A. in religious studies from Western Kentucky, Stewart has earned master's and doctorate degrees from the University of Chicago. His dissertation was on the Vaishnava saint and social reformer Krsna-Caitanya, a 16th-century figure who was considered by some to be the full incarnation of Lord Krishna. That study laid the foundation for two of his books, his most recent monograph on the hagiography of Krsna-Caitanya titled The Final Word: The Caitanya Caritamrta and the Grammar of Religious Traditions (Oxford 2010), and a translation of that critical text for the Harvard Oriental Series prepared in collaboration with his mentor, the late Edward C. Dimock, over nearly 20 years.
In the early 1990s, Stewart switched his focus from India to Bangladesh. When he got there, he found that his language training was deficient; he couldn't understand a word of what most people said. The majority population did not speak the version of Bengali that was being taught in American universities.
This led to the establishment of the Bangla Language Institute, which Stewart ran from its inception in 2006 until last year, training students for the Department of State's Critical Language Summer Program. That institute came directly from his prior activity as executive director of the South Asian Summer Language Institute on the campus of the University of Wisconsin in Madison which he founded and served as trustee from 2002 to 2006 and where each summer students can study as many as 15 different Indic languages. His years of work in the Bengali-speaking world have opened up a treasure trove of previously unpublished manuscripts, a unique literary heritage that has endured for more than 700 years.
Stewart believes Bangladesh will provide endlessly fascinating possibilities for his future research. The nation's government has effectively moved to address a host of environmental issues, including chronic flooding, contamination of ground water and overcrowding.
"Bangladesh is a shining example of what an industrious people can do," he said. "I think it would benefit Americans greatly to put aside their popular images of Bangladesh and learn from its experience."
See the complete list of new faculty for 2011-12.