Media Inquiries
Latest Stories
Anthropologist explores modern Africa and black immigrant experience in America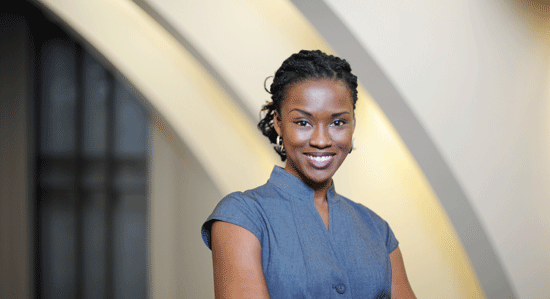 In her interactions with black immigrants over the years, Jemima Pierre said she discovered a surprising sentiment.
"They told me, 'I never knew I was black until I came to the U.S.' I found that fascinating.
"[rquote]If you live in an all-black country, does race exist? Or is race an American experience?"[/rquote]
As a Haitian immigrant growing up in Miami during the 1980s, Pierre's experience with race and blackness was unique. She straddled two communities: a wealthy, predominantly Jewish public high school and the local Haitian community.
"My father has been a Christian minister in Miami's Little Haiti for 30 years. I moved to the U.S. at the age of 8 and was able to maintain my Kreyol language skills. But I spent most of my time in a predominantly white school with a mixed groups of friends."
Later, when she went to Tulane for undergraduate studies, Pierre encountered racism on more than one occasion. "There were those experiences, for example, when there was an election for student rep and the five black female candidates' names were 'accidentally' left off the ballot at the last minute," she said.
Pierre, an anthropologist and assistant professor of African American and Diaspora studies, said her journey in reconciling her immigrant identity in America moved her toward a career studying it.
"I've always been interested in the black immigrant's experience," she said. "These days, when people speak of immigration, they usually refer to Mexicans and people from Latin America. But there is so much more to it."
When she was 20, a trip to the African nation of Ghana opened her eyes to the nuances of racial consciousness. "There was this white guy in our group with a ponytail, and kids would run up to him and call him 'Jesus,'" she said. "Somehow this was their representation of Jesus. And I thought, 'Of course Africans also deal with race!'"
Her experiences in Ghana led her to change her undergraduate major from math to African Diaspora studies. "I self-designed the major, and I was the first person to graduate with that degree from Tulane," Pierre said. A Watson Foundation fellowship granted her the opportunity to return to Ghana to live for a year. Upon her return to the United States, she earned an M.A. and Ph.D. in anthropology at the University of Texas at Austin. It was during this time that she began to think more about the idea of black racial identity in a primarily black country.
"[lquote]I want to challenge the way we think about race. It seems like such an obvious project, but there's never been one like it.[/lquote] It is the subject of my first book, Race Across the Atlantic."
It was in Ghana – a former hub for the trans-Atlantic slave trade and for British colonialism – that she began to understand the concept of "racialization," the historical and social processes in which individuals and groups are made into "races."
"I saw the best example of this in Ghana," she said. "Before slavery, the Ashanti, the Guan, the Ewé were all distinct people. They didn't consider themselves African; they considered themselves different nations. Slavery and colonialism brought them together and they became 'black.'"
Racialization, she said, should not be confused with racism.
"Racism is a hierarchy that is set up by a group that thinks it is superior, and there are systems set up to maintain that idea of superiority," she said. "Racialization is how people are understood and respond to the meanings attached to the idea of race. All people are racialized – that's why we have the categories 'black,' 'white,' 'Asian,' etc."
Racialization, she said, is also a particular kind of racial consciousness. "If an immigrant tells you, 'I didn't know I was black until I got to the U.S.,' what she or he really means is, 'I didn't know I was black in the way black Americans are seen as black until I got to the U.S.' It sounds like nitpicking, but it makes a world of difference."
At Vanderbilt, Pierre is excited to be part of the growing Program in African American and Diaspora Studies and getting students excited about Africa.
"Unfortunately, too much of what has been taught in black studies is 'Africa as motherland,' while contemporary Africa is left behind." Researchers and academics are partly to blame for this misconception, she said.
"I have a joke that anthropologists visiting Ghana get off the plane with blinders on until they get to a remote village two hours later. To most researchers, the 'bush' is the real Africa.
"Many young people don't know anything about the continent – the people, the politics. When they think about Africa, they don't think about high rises, nightclubs and college campuses, but all that's there. My goal is to re-introduce Africa."
See the complete list of new faculty for 2011-12.