J.B. Ruhl
by
Amy Wolf
Oct. 3, 2011, 8:10 AM
Law professor sees progress where environmental and economic good meets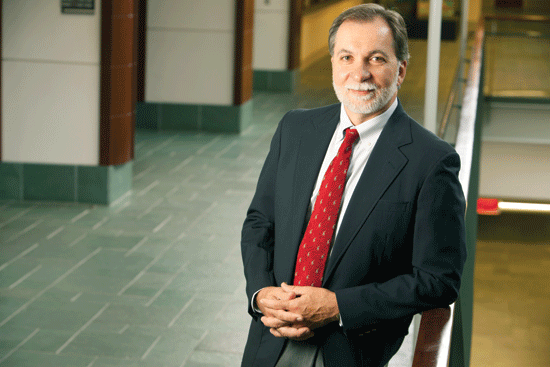 Environmental law and property law expert J.B. Ruhl said he considers himself part of the "radical middle" when it comes to helping craft solutions to controversial environmental issues.
"Sometimes you need to take an environmental good and pair it up with an economic good to get things accomplished," said Ruhl, the David Daniels Allen Distinguished Chair in Law. "Skeptics say this is 'monetizing nature,' but if you can't talk money, you're not really at the table."
One of Ruhl's main research agendas is analyzing the economic consequences of losing not only natural resources, but also the ecosystem services they provide. Ecosystem services are the benefits supplied by natural ecosystems, such as clean water and air, pollination, and protection from erosion and the effects of extreme weather.
"We're not taking enough account of the economic value we're getting from land that's been conserved," Ruhl said. "I don't just look at the lost trees themselves, but what those trees are doing for us. Are they helping preserve a wetland? Are they preventing erosion? Are they helping bring water into the soil to prevent drought?"
Ruhl's research has led to policy improvements, including bolstering wetland protections through the Clean Water Act. He said the original law, which offered a business "credits" to preserve a wetland in another area if that business damaged a localized wetland, wasn't taking into account the impact destroying certain wetlands would have on the broader environmental picture.
"We know how costly it is when we experience a flood and how costly it is to guard against it technologically with levees and such," he said. "What we're doing is essentially paying for what nature provided. We're paying to replace nature because of the damage that our removal of natural services causes."
Ruhl believes a key step is taking this concept of examining the value of ecosystem services and putting it into a legal framework so that businesses and governments are compelled to examine the information when deciding whether or not to preserve land. But, he admits, he and others are still trying to figure out the best way to make this work.
Ruhl's second area of specialty is the Endangered Species Act, which has become a controversial law because it affects almost all parts of the country but doesn't always have an economic justification like other environmental issues do.
"The Endangered Species Act is sort of the icon of environmentalism: 'We're protecting species for no economic reason, just because of their intrinsic, ecological value,'" Ruhl said.
He believes the national ideal of protecting species is important and valuable if a country can afford it. The act also tends to have very localized impacts.
"An urban dweller in New York City is asking a farmer in California to not farm to protect a certain animal," Ruhl said. "Is that fair? We need to share the burden more evenly."
Ruhl said the act can sometimes become an impediment to socially good projects, and it's not always a "black hat" versus "white hat" debate. Some fights are green versus green. His most recent research looks at the controversy surrounding wind power.
"Endangered bats and birds don't get along with big steel structures in their flight patterns. We're not going to give up on renewable energy and we're not going to give up on endangered species conservation, so we have to problem-solve."
Ruhl is currently writing a history of the Endangered Species Act through cases that have gone to the Supreme Court, including the infamous Tennessee Valley Authority Tellico Dam lawsuit that spent years in litigation because of the endangered snail darter fish. He also is researching possible future climate change litigation.
"Climate change is happening right now and damage is being done, so we're going to have to adapt," he said. "What I'm examining is how environmental law will be influenced by the harm created by climate change."
Ruhl has completed work on an empirical assessment of climate change in U.S. courts, and peers and lawmakers are paying attention. His research papers have been selected among the best law review articles in the field of environmental law six times from 1989 to 2011.
Ruhl, a husband and father of two teenage boys, says his family loves Nashville because it reminds them of their years in Austin, Texas – except with better weather. The New Jersey native has spent most of his life in and around Atlantic Coast Conference schools, including his alma mater, the University of Virginia, and most recently Florida State, so he said moving to Vanderbilt may have one obstacle.
"Embracing the SEC will be my biggest adjustment of all, but I'm ready for the challenge."
See the complete list of new faculty for 2011-12.