Lyne Bingham, What's Your Story?
by
Joan Brasher
Oct. 3, 2011, 8:00 AM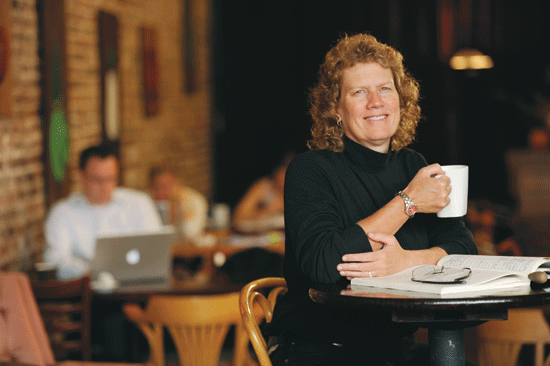 Lyne Bingham's gestures say a lot, whether she's in the midst of a lively conversation or conducting a symphony orchestra. Such expressiveness and easy sociability in a person with Asperger's syndrome might come as a surprise. Asperger's, a form of autism, is characterized by significant difficulties in social situations. But Bingham, a faculty member at Blair School of Music, loves being with people. "I just don't always know how to do it," she admits.
"Communication is the single most difficult thing I have to deal with. Looking people in the eye is one of the things I've had to learn to do. And because of the Asperger's, it's nearly impossible for me to lie, so I don't mince words."
It's easy for others to misunderstand and see those with Asperger's as eccentric, weird, nerdy, aloof, arrogant – labels that make social interactions a challenge.
The challenges of Asperger's, however, go hand in hand with unusual gifts. A tendency to focus intensely on a special interest, combined with high intelligence, can help those with Asperger's become very accomplished. Music is Bingham's passion. "It's the one special interest that I've kept all my life."
Bingham began her mastery of the bass as a child by watching the Boston Pops Orchestra on the television show Evening at Symphony. She first fell in love with the low sound of the bass while listening to her mother's records of Beethoven's nine symphonies.
"When I watched Evening at Symphony, I realized what instruments were making the low sounds that I had loved on those recordings. I watched so much I figured out how the instrument was tuned and how the fingering system worked. So in my head, I knew how to play that instrument," Bingham said. She was 19 before she actually studied the bass with an instrument in her hand, but within six months she was playing with the Knoxville Symphony.
"When you play bass in an orchestra, there's a lot of down time," Bingham said. "It gave me a lot of time to observe." She was fascinated by the conductor's communication with the musicians. "The whole gesture thing was really interesting to me, and I thought, 'I want to try that.'" Bingham went on to become a professional bass player and conductor, performing across the United States and Europe, as well as a teacher, joining Blair School of Music full time in 1990.
Because Asperger's was not recognized and named until 1994, some of Bingham's unique experiences and traits were a mystery to her when she was growing up. Now she tries to educate and help others. Recent collaborations with the Vanderbilt Kennedy Center have given her opportunities to speak to parents and children and lead musicianship and movement sessions for the SENSE Theatre intervention program. "As a conductor, movement is my language," Bingham said. "For kids with autism spectrum disorders, associating gestures with sounds makes a whole new connection for them."
Making connections – between sound and movement, between neurotypical people and those with autism – is what Bingham loves best. "I want to be a good example," she said. "Living with Asperger's is not easy, but we all have to seize the moment, grab life by both reins and have fun. That's what it's all about."
by Donna B. Smith