Media Inquiries
Latest Stories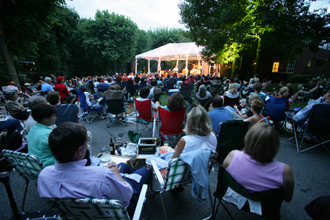 The sixth and final Bluebird on the Mountain concert of 2011 will take place Saturday, Oct. 8, at scenic Dyer Observatory. Songwriters Jack Tempchin, Crystal Bowersox and Rivers Rutherford will perform at 7 p.m. Gates will open at 5:30.
Tempchin wrote some of the iconic country-rock songs of the 1970s, including the Eagles' "Peaceful Easy Feeling" and "Already Gone." His songs have been featured in numerous movies including The Big Lebowski, Sgt. Bilko, The Lonely Guy and Thelma and Louise.
While cranking out hit songs, Tempchin has also found time to work in the bands The Funky Kings and, more recently, Rocket Science. In addition to the Eagles, Johnny Rivers ("Slow Dancin' [Swayin' to the Music]"), Emmylou Harris ("White Shoes"), Patty Loveless ("To Feel That Way at All") and Glen Frey ("The One You Love" and "I Found Somebody") have recorded Tempchin's songs.
Bowersox, a runner-up on the television program American Idol, is a relative newcomer to the Nashville songwriting community. In 2010, Bowersox released her first album, Farmer's Daughter, to critical acclaim.  She has appeared on the Ellen DeGeneres Show and was nominated for a 2010 Teen Choice Award for Best Female Reality/ Variety Star. Recently she teamed up with LeAnn Rimes for a fundraising concert for the ACM Lifting Lives charitable fund in Chicago.
Rutherford, named the 2006 Songwriter of the Year by ASCAP, received his first break when he got the song "American Remains" recorded and placed on the album Highwaymen 2 in 1990 featuring music legends Johnny Cash, Kris Kristofferson, Willie Nelson and Waylon Jennings. In 1996 Rutherford signed with Universal Music Publishing and has had songs recorded by country duo Brooks & Dunn ("Ain't Nothing 'Bout You"), Tim McGraw ("Real Good Man") and Montgomery Gentry ("If You Ever Stop Loving Me"). In 2010 Rutherford was nominated for a Grammy, having co-written Gretchen Wilson's hit single, "I'd Love to be Your Last."
A limited number of tickets for the Oct. 8 show are available at the observatory. For information contact Lynn McDonald at lynn.d.mcdonald@vanderbilt.edu.  No individual tickets will be available and no RV's or buses will be admitted.
In the event of severe weather activity, check the Dyer Observatory calendar for updates the day of the concert.
Visitors are encouraged to bring a blanket, lawn chairs and pack a picnic basket. Weather permitting, visitors can linger to stargaze using the observatory's Seyfert telescope after the show.
Season passes for the 2012 Bluebird on the Mountain series will be available beginning Nov. 1 through Ticketmaster. Dates for the 2012 series are May 19, June 16, July 21, Aug. 18, Sept. 22 and Oct. 6.  If tickets are purchased by Dec. 31, 2011, season passes are priced at $399.  If purchased after Jan.1, 2012, passes for the six shows are priced at $449.
Dyer Observatory is located at 1000 Oman Drive, off Granny White Pike between Old Hickory Boulevard and Otter Creek Road, near Radnor Lake. Directions are available at http://www.dyer.vanderbilt.edu/.
Built in 1953, Dyer Observatory was placed on the National Register of Historic Places in 2009. The property consists of the observatory, 1953 house and garage. The observatory serves as a community resource for the teaching of science as well as a venue for public, private and corporate events.
This year's Bluebird on the Mountain series is sponsored by NISSAN USA, Jack Daniels and Vanderbilt Heart at One Hundred Oaks.