Media Inquiries
Latest Stories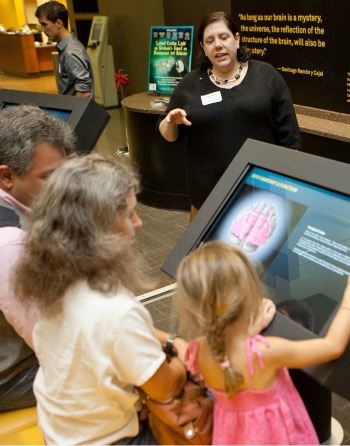 A state-of-the-art interactive exhibit on the brain and brain research has opened at Vanderbilt Health One Hundred Oaks.
The new "Brain Matters" exhibit is free and open to the public, and was developed by neuroscientists at the Vanderbilt Brain Institute and the Silvio O. Conte Center for Neuroscience Research at Vanderbilt University Medical Center.
The exhibit offers a glimpse into the fascinating world of brain science, and the impact that research is having on current understanding of mental health and mental illness.
"This really represents a fabulous opportunity for us to highlight the importance of neuroscience research and its contributions to human health," said Vanderbilt Brain Institute Director Mark Wallace,  who led the exhibit project.
The information provided by the exhibit will evolve to reflect the constant advance of neuroscience research, added Vanderbilt Conte Center director Randy Blakely, Allen D. Bass Professor of Pharmacology and Psychiatry.
In 2010, the National Institute of Mental Health provided a grant to develop the exhibit as part of its support of the Conte Center, which was established at Vanderbilt in 2007.
Motion-activated panels on the south wall of the clinics quiz passers-by about their knowledge of the senses, memory, sleep and other brain functions. In the middle of the clinic lobby, touch-screen panels explain the anatomical and molecular underpinnings of normal brain function, mental illness and neurological disorders.
At the third component of the Brain Matters exhibit, near the north end of the clinics, people can learn about neuroscience discovery and the history of neuroscience by standing under "sound domes" as they interact with touch-screen panels.
Vanderbilt faculty members, graduate students and postdoctoral fellows worked on the exhibit for more than a year with software engineers and leaders in interactive media, including Nashville-based Anode, Inc.
Key players besides Wallace and Blakely in developing the exhibit were Chris Ciarleglio, former assistant director of the Vanderbilt Brain Institute and now a postdoctoral fellow at Brown University; Andrew Hardaway, a graduate student in Blakely's lab; Edward Hubbard,  a postdoctoral fellow in the Department of Psychology & Human Development at Vanderbilt's Peabody College; and Denise Malone, Conte Center Program Manager.