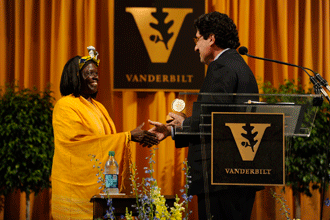 Wangari Maathai, winner of the Nobel Peace Prize who spoke as part of Vanderbilt's Senior Day activities in May, has died following a battle with cancer. She was 71.
Maathai founded the Green Belt Movement, which seeks to promote democracy, human rights and environmental conservation through the planting of trees in Maathai's native Kenya and throughout Africa. She was awarded the Nobel Peace Prize for these efforts in 2004.
During her Senior Day address May 12 in Memorial Gym, Maathai told graduating students that they were "potential great change agents."
"You are ready," she said. "Go forth, then – the world is waiting."
Watch video of Maathai's Senior Day address.
Chancellor Nicholas S. Zeppos awarded Maathai the Nichols-Chancellor's Medal, given by Vanderbilt "to those persons who define the 21st century and exemplify the best qualities of the human spirit." The award is supported by an endowed fund created by Edward C. and Janice Nichols of Nashville.