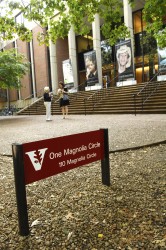 The Peabody College building that houses the Vanderbilt Kennedy Center, the Department of Special Education and the Susan Gray School has received a long-anticipated new name. Known in recent years as the MRL building, the original Mental Retardation Laboratory located on Magnolia Circle and backing 21st Avenue is now officially named "One Magnolia Circle."
Camilla Benbow, the Patricia and Rodes Hart Dean of Education and Human Development at Peabody, appointed a committee to consider possible names for the building. The committee chair, Peabody Associate Dean for Research and Professor of Special Education Craig Kennedy, said, "the new name reflects the site of the building and updates the disability-focused language that was once acceptable."
The facility was named in 1965 at a time when "mental retardation" was appropriate nomenclature to describe intellectual disability. Presently, disability advocates have strived to change terminology, including a national "R-word" campaign, "Spread the Word to End the Word," created by the Joseph P. Kennedy Jr. Foundation for the Benefit of Persons with Intellectual Disabilities and supported by the Special Olympics.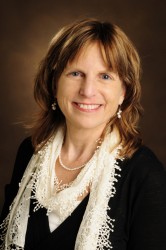 "As we've come to value persons with intellectual disabilities, and as we've listened to self-advocates and family members, our language for disability has changed," Kennedy Center Director Elisabeth Dykens said. "When the Kennedy Center was founded nearly 50 years ago, the term 'mental retardation' brought attention to a national need for prevention and treatment. Now, the term 'intellectual disability' is preferred by self-advocates, family members and professionals."
The committee submitted the proposed name to Vanderbilt's Board of Trust, who approved the change at their spring meeting.
"We're proud that our community – the Kennedy Center, Peabody College, Vanderbilt University and its Board of Trust – have agreed to rename this building and leave 'MRL,' or Mental Retardation Laboratory, behind," Dykens said. "We join with Vanderbilt students and others across the nation in the Spread the Word to End the Word campaign."