Media Inquiries
Latest Stories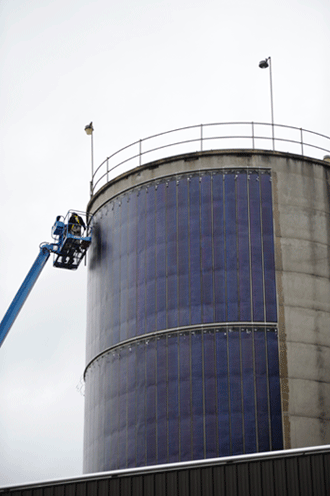 An innovative solar energy installation now adorns a concrete silo at the Vanderbilt co-generation power plant. The unique, 8.16-kilowatt, student-initiated solar project – made possible by funding from the Vanderbilt Green Fund – incorporates renewable energy technologies while providing access to usable, real-time electricity generation data that will be available to the public online.
Last spring, Vanderbilt students Jacob Choi and Erik Werner authored one of the 24 proposals submitted to the VGF for student-initiated "green" projects. Choi and Werner's proposal was considered by a selection committee of faculty, staff and students as one of the three best and received funding. The VGF, established in 2010 for the implementation of student-initiated sustainability projects aimed at reducing utility consumption on campus, is led by Vanderbilt Student Government. The monies for the VGF come from Vanderbilt Plant Operations and the Office of Housing and Residential Education.
"The application process was a testament to the ingenuity and intelligence of VU undergraduate students, as a diverse set of students devised projects that were subsequently judged by VSG, the SPEAR student environmental group, the Alternative Energy Club and other student leaders," said David Head, chief of staff for VSG. "The amalgamation of students of varying backgrounds and interests that brought such an influential energy initiative to campus is a representation of the impact undergraduates have on campus."
"Contributing to the Green Fund and working with students and faculty on sustainable practices is a fitting collaboration for OHARE," said Jim Kramka, senior director. "With nearly 6,000 students living on campus in our 42 residence halls, reducing our consumption of resources and finding sustainable sources of energy is both financially prudent and environmentally sound. By partnering with VSG, OHARE can provide practical education in sustainable practices that students can take with them beyond the campus."
Throughout summer 2011, Darren Bevill, campus energy manager with Plant Operations, and a small group from the VGF committee worked with Choi, Werner and solar energy vendors to create a feasible installation. The outcome: an 8.16-kilowatt, thin flexible solar film design by Outpost Solar of Pulaski, Tenn., that adheres to the surface of the concrete silo. Wires from the solar films feed into an inverter and meter – both located at ground level – that measure electricity generation. A data port will provide real-time output of exportable data, which will be available on the SustainVU and Plant Operations websites in early spring 2012.
"Solar is an exciting technology for the future," Bevill said. "While the economics have just not made solar a priority for us, this student initiative has provided an opportunity to install an emerging product like 'thin film solar' in an out-of-the-box application. We hope to learn a great deal about how solar may be used in the future."
Choi and Werner agree: "We tried to take an innovative approach to renewable energy by installing solar panels visible to students passing by the on-campus power plant. The Vanderbilt Green Fund was a great opportunity to try something new for the campus. We are grateful for the opportunity to work with the campus officials who helped make our idea a reality, and we hope the installation serves as an educational resource and inspires future innovation around the campus and community."
Contact: Sustainability and Environmental Management Office (SEMO)
SustainVU@vanderbilt.edu