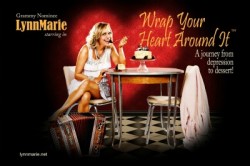 Vanderbilt University will host Grammy-nominated artist LynnMarie Oct. 16 as a benefit and fundraiser for The Susan Gray School. Her one-woman show, "Wrap Your Heart Around It – A Journey from Depression to Dessert," chronicles her experience as a parent of a child with Down syndrome.
Proceeds go to The Susan Gray School, part of Vanderbilt's Peabody College of Education and Human Development. For nearly four decades, the school has served young children with developmental disabilities. It is the first nationally recognized early intervention program to combine typically developing children with children with disabilities in an educational setting.
The Susan Gray School was one of the resources LynnMarie turned to when her son was born.
"[rquote]When I first learned that my son would be born with Down syndrome, my world stopped," LynnMarie said.[/rquote] "I didn't think I could go on, much less continue with my career. As the years went by I found myself sitting in my bathrobe, struggling with fear and depression. But finally, I found a way back."
Her hope, she says, is that her story, told with an entertaining approach, will provide encouragement to people facing issues such as depression, parenting a special-needs child and unexpected life challenges.
"I think LynnMarie says out loud what lots of families go through," said Ann Kaiser, professor of special education, psychology and human development at Vanderbilt.
The Oct. 16 launch of LynnMarie's tour will be held at the Wyatt Center on the Peabody College campus. Doors open at 6 p.m. with cocktails. The two-act show will start at 6:30 p.m. with hors d'oeuvres served during intermission, and will conclude with dessert.
Tickets are $40 and are available online. For more information, contact Michelle Wyatt at (615) 322-8466.