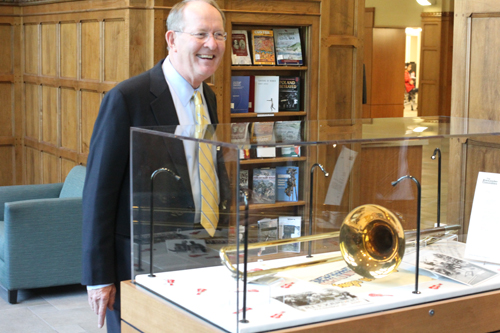 State, local and student news media joined Sen. Lamar Alexander at Vanderbilt's Central Library Sept. 16 for a preview of a new exhibit focusing on his early campaigns and two terms as Tennessee governor.
"Come on Along! Lamar Alexander's Journey as Governor" is now open to the public through Aug. 12, 2012.
The exhibit is drawn from some 500 boxes of pre-Senate papers that Alexander, and his wife, Honey Alexander, recently donated to Vanderbilt.
"Come on along!" portrays Alexander's 1,000-mile walk across Tennessee to become governor and major initiatives during his gubernatorial years, including Japanese manufacturing, the auto industry, innovations in education and Tennessee Homecoming '86.
Historic video, transcripts and correspondence surrounding Alexander's early swearing-in as governor are included in the exhibit, which features six interactive touch screens.
Campaign scrapbooks, examples of Alexander's signature red and black plaid shirt and the trombone that he played nights at a Bourbon Street club while clerking for Fifth Circuit Judge Minor Wisdom are among the items highlighted. There are photos of prominent musicians who were friends with Alexander, including Dolly Parton, Chet Atkins, Jerry Reed and Roy Acuff.
The first Nissan truck built in Tennessee at the plant in Smyrna that opened in 1983 has been loaned from Nissan North America and is on display in the main lobby.
For more information on the exhibit, contact Celia Walker at (615) 343-4701.