Media Inquiries
Latest Stories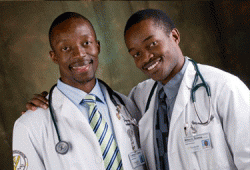 Milton Ochieng', a 2008 Vanderbilt University School of Medicine graduate and co-founder of the Lwala Community Alliance, will speak at two sessions of this year's Clinton Global Initiative Annual Meeting in New York. Ochieng' will participate in the Opening Plenary Session Sept. 20 and take part in a small-group panel discussion titled "Reproducing Success: Game-changing Interventions in Women's Health" Sept. 22.
Ochieng' was invited to participate by President Clinton, who established the Clinton Global Initiative in 2005 to inspire, connect and empower a community of global leaders to forge solutions to the world's most pressing challenges. The CGI's annual meetings bring together heads of state, Nobel Prize laureates, leading CEOs, heads of foundations, major philanthropists, directors of nongovernmental organizations and prominent members of the media. Since the organization's founding, its members have made nearly 2,000 commitments, which have already improved the lives of 300 million people in more than 180 countries and when fully funded and implemented, will be valued in excess of $63 billion.
A native of Lwala, Kenya, Ochieng' was sent by his rural village to the United States for college and medical training nearly a decade ago. He soon was followed by his brother, Fred, who graduated from the Vanderbilt School of Medicine in 2010. With the help of students and faculty at Vanderbilt and with funds raised in Nashville, the brothers opened a medical clinic in Lwala in 2007, shortly after the deaths of their parents from HIV. This effort and the Ochieng' brothers' story was the subject of the award-winning documentary Sons of Lwala.
The clinic now provides care to about 1,700 patients per month – more than half of whom are children under the age of 5 – in an area where a high incidence of HIV/AIDS, malaria and other diseases contributes to significant mortality rates. In 2010, the brothers announced the addition of a maternity ward and clinic expansion that will triple the Lwala clinic's size.
They also founded the Lwala Community Alliance to bring "physical health, educational opportunity, economic freedom, cultural vitality and spiritual growth" to the people of Lwala. The alliance works to develop public health ventures, such as clean water and sanitation projects, as well as income-generating opportunities for the people of Lwala.
Next month, Milton Ochieng' will speak at another high-profile event, the inaugural Chicago Ideas Week. Ochieng' will appear on a health care panel with CNN chief medical correspondent Dr. Sanjay Gupta. Other participants include New York City Mayor Michael Bloomberg, Chicago Mayor Rahm Emanuel, New York Times columnist Thomas Friedman and retired U.S. Supreme Court Justice Sandra Day O'Connor.
Milton Ochieng' is currently a gastroenterology fellow
 at Rhode Island Hospital in Providence. Fred Ochieng' is a resident in Internal Medicine/Pediatrics at Vanderbilt.
For more about the Lwala efforts, read "It takes a (global) village."