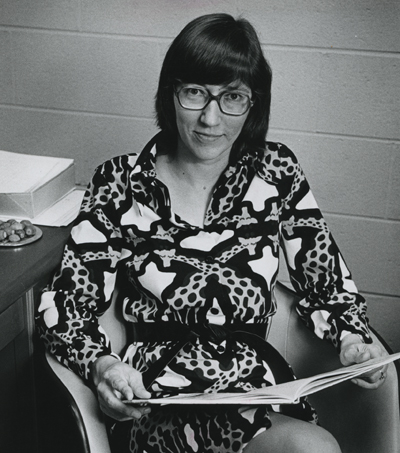 Vanderbilt Professor Emerita of Russian Antonina ("Nina") Filonov Gove died on Aug. 29 in Seattle, Washington. A memorial service will be held on Wednesday, Sept. 28, at 3 p.m. at St. Augustine's Chapel, 2200 24th Ave. South in Nashville.
Born in 1938 in Riga, Latvia, Gove and her parents were twice refugees during WWII. In the late 1940s with the help of the Episcopal Church, the family was relocated from Germany to Kansas City and then to Seattle. Undeterred by the family's modest circumstances, Gove headed to Harvard University to study with the renowned Roman Jacobson and completed her Ph.D. in 1967.
Gove moved with her husband Walter to Nashville in 1968 so that he could accept a position as assistant professor of sociology at Vanderbilt. She was appointed assistant professor of Slavic languages and literature in 1969 and promoted to associate professor with tenure in 1974. She was promoted to full professor in 1990.
Gove came to Vanderbilt, raised a family, and built her career at a time when there were few women on the faculty and when it was extremely difficult for women to succeed in academia. With her customary wisdom and thoughtfulness, she started taking leadership roles in the advancement of women, culminating in chairing the Chancellor's Commission on the Status Women in 1975-76 which resulted in the establishment of the Margaret Cuninggim Women's Center and eventually the Vanderbilt Child and Family Center.
By this time the university recognized Gove's gifts and she was elected chair of the Faculty Senate in 1980-81. In her inaugural speech she called for an additional year in the tenure process to provide flexibility for women and others with child care responsibilities. This recommendation was adopted by the CART Report and was eventually realized in the tenure procedures that were approved. Nina was also influential in establishing measures that brought increases in faculty salaries, especially for junior faculty.
In 1989 she was awarded the Affirmative Action and Human Rights Award, and in 1993 the Mary Jane Werthan Award for Extraordinary Contributions to the Advancement of Women at Vanderbilt. In Nashville she was active in St. Augustine's Chapel on the Vanderbilt campus and volunteered in the Magdalene Project. She was also an avid naturalist and volunteered actively at the Warner Park Nature Center.
The topics of Gove's publications are wide-ranging, including Pasternak's lyrical poetry, gender roles in poetry, and the relation of music and texts in Old Church Slavonic and Byzantine hymns. Her expertise embraced an astonishing facility with languages, including Byzantine Greek, French, Spanish, Polish, Serbo-Croatian and Latin, together with fluency in Russian, Latvian, German and English. Perhaps her most important publications are her book, The Akathistos Hymn, and essays on the poetry of Marina Tsvetaeva. Her research was supported in part by the American Council of Learned Societies, the Nashville Endowment for the Humanities, the Robert Penn Warren Center, and the University Research Council.
She is survived by her husband Walter Gove and children Nancy Elizabeth Gove and Nathan Andrew Gove.
Contact: Susan Wiltshire, (931) 764-2412