Media Inquiries
Latest Stories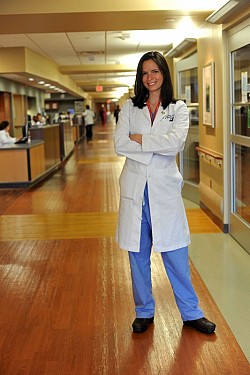 A new study indicates that patients with high-grade glioma brain tumors who have preexisting type 2 diabetes or obesity have poorer outcomes, and is the first to use the Vanderbilt Brain Tumor Center Clinical Database to report a novel clinical finding.
The study, published in the August issue of the Journal of Neuro-oncology, retrospectively analyzed 171 patients surgically treated for high-grade gliomas and analyzed the prognostic implications of a history of type 2 diabetes and body mass index (BMI).
Those with diabetes were found to have both a shorter time to tumor progression and a shorter overall survival. Those with a higher BMI were likewise more likely to have earlier tumor progression.
"The thing we know about both those groups is that they have a higher level of circulating insulin than other patients, and insulin in high levels has been shown to cause cancers to grow faster and become more invasive," said Lola Chambless, neurosurgery chief resident and lead author of the study.
"If the insulin pathway truly is important in the progression of these tumors, that may open up some doors for drug therapy for everybody, not just diabetic or obese patients."
Database designed for discovery
Chambless began building the database that enabled this research three years ago. It started with a brain tumor tissue bank originally organized by Reid Thompson, chair of the department of neurological surgery, that contained excess tissue from virtually all neuro-oncology patients treated at Vanderbilt since 2003. Chambless matched those tissue samples with the patient's de-identified medical record.
"We basically had hundreds and hundreds of samples but no link to the patient's clinical data," Chambless said. "[rquote]Now we have a database that includes everything from prior diseases, medications, family and social history, to their MRIs, diagnosis, treatment details and outcomes.[/rquote]"
"The nice thing is we also have that all linked to the tissue. So if someone wants to look for a specific gene expression in a certain patient, not only can we give them all the tissue to study, we can also get the clinical data and look at that patient's outcome. There are endless things we can look at from a retrospective standpoint, and those can give us ideas on how to proceed with prospective studies."
The database is set up so that Vanderbilt's institutional review board can quickly approve new research inquiries, and Chambless hopes investigators will take advantage of the system.
"We're really interested in having people from any field collaborate with us. [lquote]Our goal is to make the tissue bank and clinical database user-friendly and bring in as many collaborators as possible.[/lquote]"
Current studies using the database include a look at the importance of the extent of surgical resection of tumors, understanding performance status and how it affects a patient's prognosis, and analyzing how the inconsistencies in prescribing steroids increases complications.
Chambless will present the findings of the study on Oct. 23 at the American College of Surgeons' annual meeting, where she is a finalist for the Association of Women Surgeons resident research award.
Media Contact: Leslie Hill, (615) 322-4747
leslie.hill@vanderbilt.edu