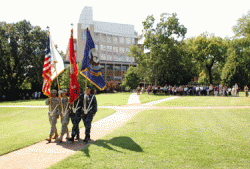 About 100 individuals gathered on Library Lawn at noon Sept. 12 for a moment of silence in memory of the 9/11 victims. Luke Billet, a senior in the School of Engineering and member of the Dodecaphonics, sang the national anthem.
Vanderbilt ROTC provided a flag detail for the gathering, which was organized by the University Staff Advisory Council (USAC) for those who could not be on campus Sunday for the 9/11 memorial services. The event concluded with a fly-over by LifeFlight.
On Sept. 9, USAC President Kenny Moore and a group of staff and student volunteers honored Vanderbilt's first responders by delivering 1,500 cookies donated by staff and Dining Services to the various departments, which included VUPD, LifeFlight and Plant Operations.