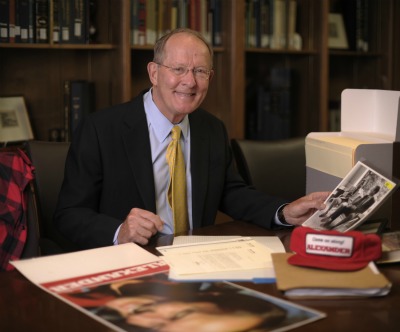 Sen. Lamar Alexander will be at Vanderbilt's Central Library on Friday, Sept. 16, from 11 a.m. to noon to tour the new exhibit, "Come on along: Lamar Alexander's Journey as Governor." The exhibit is drawn from approximately 500 boxes of prized papers that he and his wife, Honey Alexander, recently donated to the university. The exhibit, which opens to the public Sept. 17, includes colorful campaign memorabilia, historic video of his early swearing-in as Tennessee governor, rich material from his two gubernatorial terms and photographs of prominent Nashville musicians who were friends with Alexander. The news media is invited to join Sen. Alexander for an informal preview of the exhibit. Following the tour, Alexander will answer questions from the media. The media availability will be lighted for television and a mult box will be provided.
WHAT: Sen. Lamar Alexander previews new Vanderbilt Library exhibit that focuses on his early political campaigns and two terms as governor.
WHERE: Vanderbilt University's Central Library, 419 21st Ave. S.
WHEN: Friday, Sept. 16, 11 a.m. to noon
MEDIA PARKING: A limited number of parking spaces will be available for media in Lot 6B located on 21st Avenue South between the library and the Owen Graduate School of Management. The entrance to this lot is directly across from the 21st Avenue South and Scarritt Place intersection. Limited free parking is also available on the Kirkland Hall esplanade off West End Avenue.
DIRECTIONS TO LIBRARY: From Lot 6B on 21st Avenue South: From the street level, take the steps between the library and Benton Chapel. At the top of the steps, turn left on the sidewalk and the library will be on your left. Enter the library's main entrance – the doors face the campus lawn with a tree sculpture. For additional directions, contact Ann Marie Deer Owens at 615-343-3208 or 615-300-0534.
Ann Marie Deer Owens, (615) 322-NEWS
annmarie.owens@vanderbilt.edu
Jim Jeffries, (202) 286-2465
Jim_Jeffries@alexander.senate.gov