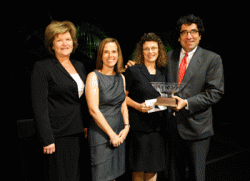 The Commodore Award – Vanderbilt's highest staff honor – was presented to two staff members during the Service Awards Celebration Sept. 13 in Langford Auditorium. The award is given annually to recognize and reward significant achievement in Vanderbilt's pursuit of excellence in education, health care, research and community service.
Paula W. McGown, an administrative officer in Faculty and Staff Health and Wellness, and Susan Eilermann, a nurse and educator in the Division of Pediatric Allergy/Immunology, each received a cash prize and an engraved crystal bowl.
The award seeks to recognize individuals whose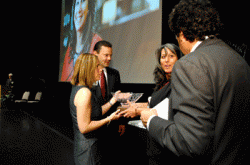 overall performance accomplishments regularly and consistently far exceed performance expectations, reflecting a high level of service, dedication, conscientiousness, compassion and applied skill; those who have handled a high-impact or critical situation that had important consequences for Vanderbilt or the community; or those who developed new or improved existing processes that resulted in a significant improvement in productivity and/or cost savings.
Commodore Award recipients are nominated by fellow staff members, faculty or students and are selected by a committee that includes the previous year's winner or winners and representatives of Vanderbilt's staff, administration and faculty.
Read more about the Commodore Award and view a list of past winners.
Contact: Susie Lyons, (615) 322-0698
susie.lyons@vanderbilt.edu