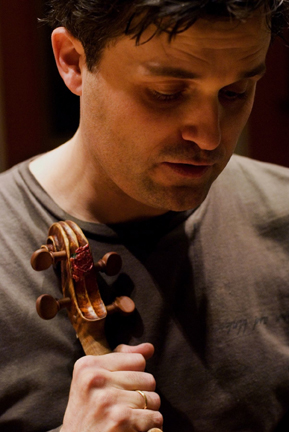 Violinist Peter Sheppard Skaerved, renowned for his performances and research on Niccolò Paganini, will perform at Blair School of Music's Ingram Hall Monday, Sept. 19, at 8 p.m.
On his very first visit to Nashville in 2004, Skaerved created a stir with a flashmob performance in front of Delacroix's painting of Paganini, then hanging at the Frist Center for the Visual Arts. This led to a collaboration with Vanderbilt composer Michael Alec Rose, resulting not only in a concerto, quartets, duos and numerous solo works that Skaerved plays worldwide, but also an exchange program between Blair and the Royal Academy of Music in London.
Skaerved's works present an imaginary dialogue between Paganini and composers – young and old, alive and dead – who are important to him. The framework for the performance will be the press furor around Paganini's arrival in London in 1831. It will be an evening of music, text and ideas.
Skaerved is one of the few living violinists who has been invited to play Paganini's extraordinary violin (pictured here), called "Il Cannone."
Contact: Kristin Whittlesey, (615) 322-7656
kristin.whittlesey@vanderbilt.edu