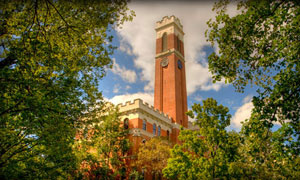 Vanderbilt University was named the 17th best national university in the United States by U.S. News & World Report, the third consecutive year it has held that position.
Vanderbilt School of Engineering moved up to No. 34 among engineering schools whose highest degree awarded is a doctorate. The university was also noted for its achievements in undergraduate research and creative projects, popularity among high school guidance counselors, percentage of students receiving Pell Grants and being a good value for its tuition.
"It's rewarding to receive this news from U.S. News & World Report confirming that Vanderbilt's focus on its core mission of education and research continues to pay handsome dividends," said Chancellor Nicholas S. Zeppos. "In uncertain times, Vanderbilt continues to produce the leaders to address the challenges of the future."
Vanderbilt was tied with Rice University for the No. 17 best national university, in a category topped by Harvard, Princeton and Yale universities. In rankings of engineering programs that award doctorates, the Vanderbilt School of Engineering improved two slots from 2010, tying with three other schools for No. 34.
Engineering School moves up two places to No. 34
"While these rankings are only one measure of the success of our programs, they do recognize the school's excellent reputation in undergraduate engineering education," said Kenneth F. Galloway, dean of the School of Engineering. "We are among a group of strong engineering schools that are all striving for excellence, and it is gratifying to be recognized by your peers."
Vanderbilt was ranked No. 14 in the Great Schools, Great Prices list, which compares academic quality with the net cost of attendance for a student who receives the average level of need-based financial aid. In its second year of existence, the High School Guidance Counselors list included Vanderbilt as No 13 in a tie with four other schools, an improvement from No. 19 last year.
Vanderbilt was also noted for undergraduate research and creative projects in an unranked list of 28 universities.
Thirteen percent of Vanderbilt students receive Pell Grants for low income students, up from 11 percent in 2010. This ranked Vanderbilt in the Top 25 schools for economic diversity.
Highlights of the rankings will be published Sept. 20 in U.S. News & World Report's Best Colleges guidebook.