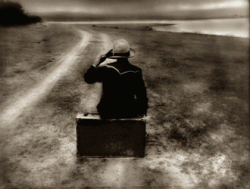 Why are poets, painters, photographers, songwriters, filmmakers and other artists fascinated by roads, paths, trails, railways and highways? The Religion in the Arts and Contemporary Culture program at Vanderbilt Divinity School considers that question and visually explores the philosophical and theological meanings of the road in the arts in Holy Road: A Photographic Essay on Transience and Journey.
The exhibition, which opens with a reception from 4 to 7 p.m. Sept. 22 in the Arts Room (G-20) at the Divinity School, features images by noted photographers Jack Spencer, Michael Wilson, Alan Messer, Tamara Reynolds, Jon Morgan and Jimmy Abegg.
The exhibition will run Sept. 22-Nov. 4. For gallery hours, visit www.religionandarts.com.
Contact: Dave Perkins, (615) 385-0220
dhperkins@bellsouth.net