Printing plates from historic Wall Street Journal on display
by
Princine Lewis
Sep. 9, 2011, 3:32 PM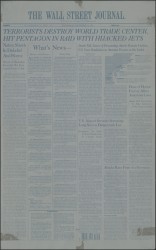 It was amazing that the Sept. 12, 2001, edition of The Wall Street Journal was published at all. With its newsroom and corporate headquarters located directly across the street from the devastated World Trade Center, the newspaper's staff was evacuated from their offices after the first plane crashed into the north tower on Sept. 11. They were left to improvise reporting on one of this country's and the world's most tragic moments.
People can now revisit the incredible efforts of those reporters and editors at Vanderbilt Special Collections where the printing plates from the front page of the Sept. 12, 2001, edition and the front page of that paper's "Money and Investing" section will be on display Friday, Sept. 9, through Tuesday, Sept. 13. Vanderbilt Special Collections hours are 8 a.m. to 4:30 p.m. Monday-Friday.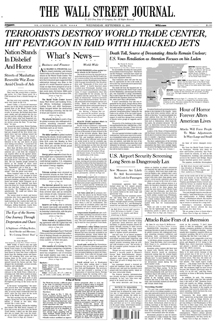 "These remarkable printing plates give us a firsthand look at how the country came to grips with the terrible tragedy of 9/11. Their value for the library's Special Collections is significant as historical icons and as records of the related story of news reporting that is a strength of the collections. We are so pleased to make them available on this important occasion," Connie Vinita Dowell, dean of libraries, said.
William Christie, Frances Hampton Currey Professor of Finance and professor of law, donated the plates to Special Collections for display. A sales representative from The Wall Street Journal gave the plates to Christie, who at the time was dean of the Owen Graduate School of Management, as a result of a meeting during which Christie remarked how impressed he was that the Journal's staff was able to publish the Sept. 12 edition despite great challenges. The meeting was held to discuss Christie's purchasing a subscription to provide copies of the newspaper to all Owen students.
"It was maybe the next year that the rep showed up with the plates and said 'thank you, you were my first sale and I want to give you these since you had such an interest,'" Christie said.
"I was thrilled and amazed to see the actual plates that were used to roll the paper off the press. It was phenomenal and I was incredibly honored to receive them," he said. "As the anniversary of 9/11 approached, I thought they probably could have a much higher value than sitting in my office, so I gave them to Vanderbilt Special Collections."
The Wall Street Journal's staff won the 2002 Pulitzer Prize for breaking news reporting for articles from that edition, which reportedly reached all but 15 percent of the Journal's 1.8 million readers on Sept. 12.