Where Were You on 9/11?
by
Joan Brasher
Sep. 9, 2011, 3:46 PM
---
Vanderbilt students, faculty and staff reflect on the tragedy 10 years later
It has been a decade since the 9/11 terrorists attacks, in which more than 3,000 people died at the World Trade Center, the Pentagon and in Pennsylvania. But time has not fully healed the wound: Don't we all remember where we were that day?
The View invited members of the Vanderbilt community to share their stories, and we have captured a few of them here. Some breathed in the fire and dust that day. Others were far from the scene but feared for loved ones at work or in the air. Some personally knew individuals who died. Some knew no one at all who died, but wept for the nation's unfathomable loss.
As you read these stories, join with us in honoring the survivors and those who were lost, as well as the valiant rescue workers and volunteers who worked to find the living among the rubble and bring closure to the families of the dead.
When you're finished, please feel free to comment or share your own 9/11 story in the comments field below.
Caroline Cecot: Running for her life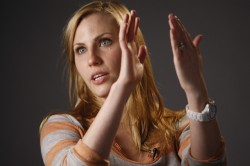 Caroline Cecot, a graduate student at Vanderbilt, is a native New Yorker. She grew up in a Polish neighborhood in Brooklyn and was a senior at Stuyvesant High School in Lower Manhattan on the day of the 9/11 attacks.
"I was in Spanish class when we heard this big sound – kind of like a car backfiring," Cecot said. "My teacher looked really scared. We went to the windows and saw the towers were on fire. We were sent to our homerooms and were kind of panicking at this point. Our cell phones weren't working.
"I ran into my brother, who was a sophomore. He had seen from his classroom window the second plane go into the tower, and he looked a little shaken up. He also saw people jumping. But we didn't know what was happening yet. So I left my brother, and I remember really regretting it, because I couldn't find him later."
The high school was evacuated floor by floor. Cecot quickly located a couple of friends outside, and the three began to run.
"All we saw was this big dust cloud. We joined hundreds and hundreds of people evacuating Lower Manhattan – businessmen in suits, covered in dust. I remember firemen coming up to us and asking us for water bottles to wash people's eyes out. It was surreal," she said.
"I remember everyone (in storefronts) who had a TV had turned it out so people in the streets could see. That's how we found out the towers had fallen – from a TV, outside, on the corner of Broadway and some street."
That night, Cecot stayed with a friend in Carroll Gardens, across the river from Lower Manhattan, where the sky rained down letterhead stationery and the air was tinged with dust and smoke.
"The whole city smelled like it was burning," she said.
Cecot was able to make a phone call from a landline and learned that her brother, father and mother, who were all in the city that day, had walked back to Brooklyn over the Queensboro Bridge. They were safe.
Cecot graduated high school and went on to complete an undergraduate degree at Harvard. She is pursuing a law degree and a Ph.D. at Vanderbilt. Discussing 9/11 is not something she has done very much – with family or with friends.
"I think we didn't really talk about the attacks much because it was too overwhelming; it was too much to take in," she said. "We talked about it and then we put it away. But to this day, I don't like seeing planes in cities. It always will remind me. It will be a thought that just passes through."
Cyril Stewart: A father's greatest fear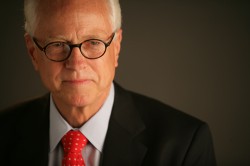 Cyril Stewart, Vanderbilt University Medical Center's director of Facility Planning, was in a work meeting that morning, temporarily away from televisions and phones. Two weeks earlier, he had taken his son David to New York City and settled him into his dormitory at New York University. David's 10th-floor window had a perfect view of the twin towers.
"He was a country boy from Nashville, heading to NYU," Stewart said. "He was so excited to be in the city." Stewart recalls asking his wife and son to pose in front of the window for one last photo before the trip back to Nashville. Stewart framed that photo and it sat on his desk. On the morning of 9/11, a Vanderbilt co-worker pulled him from his meeting to alert him of the tragedy. Stewart's first thought was finding his son.
"I tried calling, but I couldn't get through to him," he said. "I tried calling all my other friends in New York, but I couldn't get through to anybody.
"Eventually, the voicemail light on my phone came on. I reached over, hit the button and got the message. It was David. He said, 'Mom and Dad, it's been an interesting day, but I want you to know I'm all right. Don't worry.' It was the most perfect moment."
Stewart would find out later that David and his roommates were awakened by the rumble of a plane flying low over their building. As it did, the walls and windows shook. They stood at the window and watched the towers burn. They watched them fall.
"I remember my wife asking him if we should come and get him, as if we could – the city was shut down. David said, 'No, Mom, we are going to be all right.' We. He became a New Yorker that day."
Peter Long: Losing friends
Peter Long, manager of projects in Human Resources at Vanderbilt, was working as a defense contractor in Arlington, Va., at the time of the attacks. Retired from the military, he spent 20 years in the Marine Corps, his final posting at the Pentagon. As a consultant, he often visited the Pentagon to meet with clients. But on 9/11, he was in a meeting at one of the company's corporate offices in Arlington.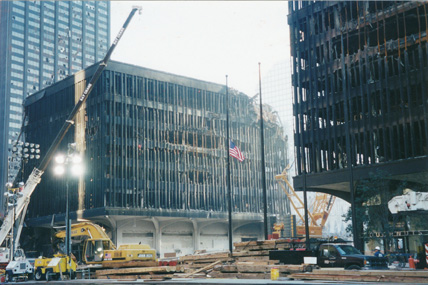 "That morning our security manager came in and said, 'It's on the news – an airplane flew into the World Trade Center.' We didn't think much of her report until she said that a second plane had been flown into the towers, then one had flown into the Pentagon. That's when we realized that this was not an accident. Our nation was under attack.
"When I got back to my desk, I saw that my wife had been calling. She was concerned because I had done business with the Pentagon as I had clients there. I was fortunate that I wasn't there. It was just timing," he said.
Long decided the best thing for him to do was to go home – but that was no easy task. Traffic was blocked off in the vicinity of the Pentagon, which was on the way. He and a co-worker who carpooled decided to take a circuitous route through Maryland. What was normally a 50-minute commute turned into seven hours of gridlock.
"It was very strange to not see any airplanes flying except for the occasional F-15 or F-18 patrolling the sky," Long said. "A couple days later, I drove past the Pentagon and there was still smoke coming out of it. It was cordoned off."
When the victims' names were released, Long learned that a friend and classmate from his company at the U.S. Naval Academy, Capt. Gerry DeConto, was killed.
"His office was right there where the airplane slammed into the Pentagon," Long said.  A couple of weeks later, Long was a pallbearer at DeConto's funeral.
"The hardest thing was losing friends. In the military, you always know that you or your friends and colleagues may have to make the ultimate sacrifice. You can prepare yourself for it when someone is killed, but it is never easy. We learned on 9/11 that there are bad people in this world who hate America, our freedoms and what we believe in – you cannot hope or wish that away."
Karen Jackson: First day of kindergarten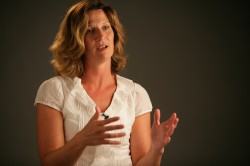 On the morning of Sept. 11, Karen Jackson, associate director of business administration and operations in the Division of Animal Care at VUMC, was a New York City resident. It was the first day of kindergarten for her daughter Ashling, and just as she and her husband left Ashling at school – 10 blocks from their Brooklyn Heights brownstone – they heard a loud sound.
"We thought someone had hit one of those large construction metal blocks you see on the expressway," she said. Puzzled, she and her husband, with 2-week-old son Forrest in tow, left the school and made their way home.
"As we were driving, all we could see was the smoke coming out of the towers," Jackson said. "We gathered with our neighbors outside, trying to figure out what it all meant. Where do we go? Who is where? What do we do about the kids? We felt like we were under attack. Then the towers fell. You heard it and you felt it.
"I told my neighbor, who also had a daughter in kindergarten, 'I'm going to get the girls right now – we need our babies.'"
Jackson made her way through the crowd of anxious parents to collect Ashling and her friend Marcelina.
"I told the girls, 'I need you to hear something. Something bad has happened, but I don't want you to be afraid,'" Jackson said. "'We are going to cover our mouths while we walk out. I don't know what the smoke is from and I don't want you to get hurt.' We had 10 blocks to walk. All I remember is that I had two adorable girls at my side and we were being brave."
The fact that it was the first day of kindergarten may have actually saved lives that day, Jackson said.
"There would have been so many more people who had gone to work that day but didn't because they were dropping their kids at school. In a way, the children saved us."
Jackson and her family moved away from New York a year later.
"The first time I flew over the New York skyline and there were no towers, I cried, because I lost something. I think all of America felt like (the terrorists) took a part of our home."
Kate Stuart: A campus stunned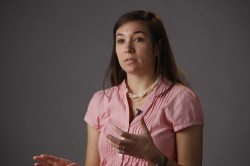 Kate Stuart was a Vanderbilt sophomore on the morning of 9/11, getting ready in her Mayfield dormitory for a class. Stuart is now the assistant director of student and alumni engagement for the Alumni Association at Vanderbilt.
"I remember I was on the second floor leaning over the railing to see the TV and saw the second plane hit the building," Stuart said. "It almost felt like we weren't watching TV – like it was a movie or computer graphic. It wasn't real."
As far as she knew, classes hadn't been cancelled, so she and her dorm mates hurriedly dressed and headed out the door.
"Nobody really knew what was going on. My professor mentioned the event, then went ahead and started class. But everyone was getting calls on their cell phones; the parents were freaking out," Stuart said. "I couldn't concentrate and didn't hear a word he said.
"My next class was cancelled. On my walk back to Mayfield, the campus felt so strange. People are usually on their path heading to their next class. But students were gathered in groups to talk, and the professors were out of their classrooms and standing outside. Everyone was trying to make sense of what had happened."
Stuart remembers it was a beautiful late-summer day. She went back to Mayfield and called her dad, just to hear his voice. Overwhelmed by all that was going on, Stuart took a blanket and a book outside and tried to "do something you would normally do on a Tuesday." But she quickly sat upright when she heard the sound of a Vanderbilt LifeFlight helicopter making its way across the sky.
"I knew all the planes were grounded, and I kind of panicked. I turned to this guy who was nearby, who I didn't even know, and said, 'Do you think that's OK?' I think we all needed reassurance from those around us.
"I am glad I was at Vanderbilt, someplace I felt safe, but I definitely became an adult that day."
Peter Rousseau: Bright stars extinguished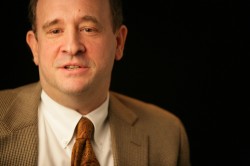 On the morning of Sept. 11, Vanderbilt Professor of Economics Peter Rousseau was teaching his 8:10 Introduction to Corporate Finance class.
"For me, it started out like any other day," he said. "But when I came out of my class at 9:25, a colleague came to me and asked if I knew what had happened. At the time, I didn't put together the fact that some of my former students were working in the World Trade Center above the 85th floor."
Rousseau would later learn that two of the students he had taught the previous semester had perished in the towers. Terrence E. Adderley Jr., known as Ted, whom Rousseau describes as "respectful, pleasant and inspired by the search of knowledge," was one of those students. Another was Davis "Deeg" Sezna, whose love of life was "contagious," Rousseau said.
"We knew by late in the day that they were unaccounted for and one could only imagine the worst at that point. It was crushing."
Rousseau had recently given Sezna permission to postpone his final exam because he had a job interview in New York. He aced the interview – and later the test. On his sixth day on the job at Sandler O'Neill & Partners on the 104th floor of the south tower, his life abruptly ended. According to the New York Times' Portraits 9/11/01: The Collected Portraits of Grief, Sezna was an enthusiastic trainee who "insisted on wearing suits in an office where business casual was the attire du jour, and refused to call his boss by his first name." Adderley is described in the collection as a "driven" young man with business in his blood who was "choosing stocks when he was 12." He is remembered for having a "dry wit" and a penchant for teasing co-workers.
"Nothing can bring them back to us, but they continue to live in the minds of their families and all of us who cared for them," Rousseau said. "I hope that their wonderful parents and families have found some peace in the decade that has passed. They, and others, are part of the Vanderbilt family."
James Booth: Why we remember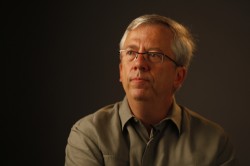 Remembering that tragic day, and the aftermath, is sorrow-filled but not without purpose, according to W. James Booth, professor of philosophy and political science at Vanderbilt. To remember is to acknowledge our connections with both the living and the dead, he said.
"The 10th anniversary of 9/11 is an opportunity to heal and move forward," he said. "But more important is that remembering provides a way of recognizing our connections to those who were lost. It is an expression of our bond and fellowship with them."
Recounting the incidents of the past and remembering those lost on 9/11 is not unlike the act of memorializing our own family members and friends who have died.
"Remembering is a kind of obligation we have to the people with whom we have shared a world in common," he said. "It's something that we owe them. To ignore or forget this would be to inflict another wrong on them."
Remembrance acknowledges that we are all connected, Booth said.
"It reminds us that even though these people were, in a sense, strangers to us, in another important way, they weren't strangers at all. We must refuse to let them be forgotten."
If you would like to comment on this story, or share with us your story, leave your remarks below.