All-star concert Sept. 28 to mark 100th birthday of Bill Monroe
by
Jim Patterson
Sep. 8, 2011, 2:26 PM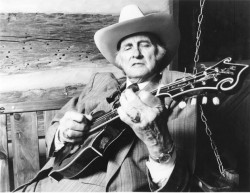 The sounds of Appalachia have long echoed along the halls of Vanderbilt's Blair School of Music alongside classical music. To mark the 100th birthday of bluegrass originator Bill Monroe, Blair is hosting an all-star concert that will celebrate Monroe's life and career.
Monroe, born Sept. 13, 1911, is credited with establishing bluegrass music. The writer of classic songs such as "Blue Moon of Kentucky" died in 1996.
"We are going to have some high-powered cats there," said Matt Combs, adjunct instructor in fiddling at Blair, who is organizing the event in cooperation with the Country Music Hall of Fame® and Museum. Artists booked for the show include Ricky Skaggs, The Del McCoury Band, Roland White and The Nashville Bluegrass Band. Additional guests are expected.
Bill Monroe's 100th Birthday Celebration will be held 7 p.m. Wednesday, Sept. 28, in Ingram Hall. The concert, sponsored by the Sartain Lanier Family Foundation, is free and open to the public. All tickets have been distributed. Co-sponsors are Blair and the Country Music Hall of Fame and Museum, with support from The Foundation for Bluegrass Music.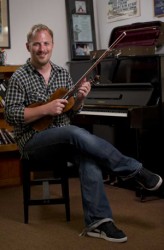 "It's just for fun," Combs said. "It's a birthday present to everyone to celebrate the music of Bill Monroe."
Admission to the event is free, but tickets are required for admittance. All tickets have been distributed. Doors for the concert open at 6:30 p.m., and possession of a ticket does not guarantee a seat after 7 p.m.
The show will be a multi-media look at the evolution of Monroe's storied life and career, from his days in a sibling harmony duo (with brother Charlie Monroe) through the beginnings of bluegrass in 1946 and on to the triple-fiddle sound of his later years.
"He was always writing and evolving to a certain extent," Combs said. "He was never comfortable resting on his laurels and only rehashing his older hits."
Vanderbilt's Blair School of Music has been giving instruction in folk instruments for more than a decade. Revered fiddler Mark O'Connor helped establish the program with the help of Mark Wait, dean and professor of music at Blair.
"I'm delighted that Matt Combs has put together such a stellar group to celebrate the 100th birthday of Bill Monroe, a true American original," Wait said.  "The Blair School's program in folk instruments includes fiddle, dulcimer, banjo, and mandolin – and they all owe so much to Bill Monroe's legacy."