Kim Drake, What's Your Story?
by
Joan Brasher
Sep. 1, 2011, 2:33 PM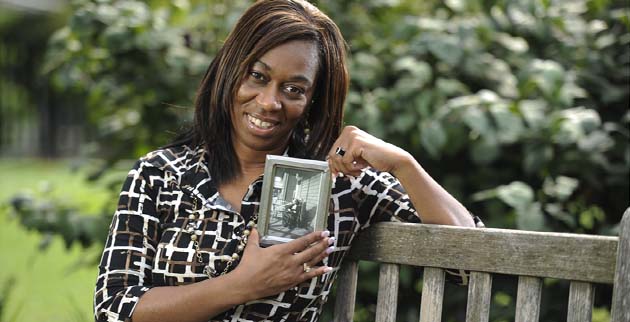 Thumbing through a handful of her daughter's recently taken senior photos, Kim Drake was a little tearful. "I'm having a mother moment," she explained before tucking them away to offer some friendly guidance to a patient at the Vanderbilt-Ingram Cancer Center's Patient and Family Resource Center, where Drake is program coordinator.
Patients find a warm and caring friend in Drake, who provides knowledge and support to lessen their anxiety about diagnosis and treatment. "I'm here regardless of where they are in the process," she said. "I tell them to remember that today is today and tomorrow will take care of itself."
Drake knew that the "nurture gene" ran in her family, but she discovered just how deeply when she embarked on a journey to learn about her great-great-grandmother, known in the family as "Gar."
"We had pictures of her in the house, but I didn't know her life story," she said. When her grandmother died and Drake was going through papers, she discovered family burial records that gave her the first clues. A trip to the downtown public library's archives to check death certificates gave her Gar's full name: Priscilla Robinson.
Armed with the name and a tip from her mother that Gar had probably lived in Cambridge, Mass., Drake performed a Google search and turned up a connection between Priscilla Robinson and Middleton Place Plantation in Charleston, S.C. When Drake contacted Middleton Place, now a national historic landmark, she discovered that her great-great-grandmother had grown up there as a slave under Arthur Middleton, one of the signers of the Declaration of Independence. Robinson had been nicknamed "Gar" because of her love of gardening.
Drake learned that Priscilla (neé Johnson) left the plantation in 1866 when she was about 19 years old to go north with a doctor and Middleton family friend as a nurse for his ailing mother. Priscilla subsequently married Madison Robinson, became a nanny and spent her life taking care of children, including three daughters of her own.
One of Priscilla's charges, Ann Brummer, was so fond of her that she had done research about Priscilla and left behind stories and photographs that Drake was able to get from Brummer's sons. Another family that Priscilla cared for established a memorial in her honor at Cathedral of the Pines in New Hampshire.
"It made me so proud that even though Priscilla was born into slavery, she was well respected and so loved by every family she was a nanny to," Drake said. "I'm a nurturer by nature and by profession, and it's satisfying to understand where that came from, because Priscilla was a nurturer, too. That quality has trickled down and is woven so much into our family."
Drake, as well as her mother, grandmother and uncle, show the "Gar" gene as caregivers of one kind or another. And now Drake's daughter may continue the family tradition by pursuing nursing.
"My next goal is to write a book," Drake said. "The title will be My Roots, My Legacy. Everybody should know their history. This is the seed that you've grown from."
by Donna B. Smith