In Conversation with Billy Collins
by
Jim Patterson
Sep. 1, 2011, 2:38 PM
The former U.S. poet laureate discusses his upcoming Vanderbilt residency and the importance of a poem's 'shape'
In the opinion of poet Billy Collins, poetry needs to be everywhere.
"I think ambushing people with poems on billboards, buses, the radio and other places outside the library will help bring readers back to the shelves at the back of the store where the thin books are hiding," said Collins, the former United States poet laureate who will spend two weeks in September in residency at Vanderbilt.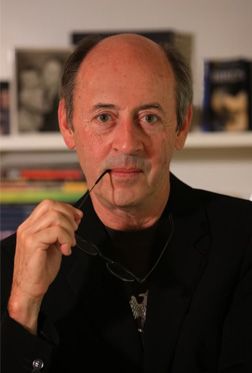 The residency, sponsored by the Department of English and highlighted by a free public reading in Wilson Hall at 7 p.m. Sept. 16, will include plenty of interaction with Vanderbilt creative writing students and the general public.
"Because Billy Collins is such an engaging performer of his own work as well as an absorbing presenter on poetry in general, we have planned a series of both small- and large-venue events that will bring him into close contact with many members of our community – undergraduate and graduate students, faculty, staff, parents and first-year students, as well as adult learners and high school students in the Nashville community," said poet Kate Daniels, professor of English and creative writing at Vanderbilt.
Collins is the featured attraction of this semester's "Saturday University" series for adult learners, where he will speak Sept. 10 and 17 on "The Mechanics of Poetry" at Cohen Memorial Hall.
"I think there is in America a huge, mostly untapped audience for poetry," Collins said. "Most people don't read poetry because they don't know what poetry is. Since many of them have had zero contact with poetry since they left school, they have to make up reasons why they don't read it."
One oft-cited reason, the "difficulty" of comprehending poetry, particularly grates for Collins.
"But how do they know poetry is difficult if they don't read it?" he asked. "That's one of the questions that makes me look up at the sky for an answer."
Or, as he put it in his poem "The Effort":
Would anyone care to join me
in flicking a few pebbles in the direction
of teachers who are fond of asking the question:
"What is the poet trying to say?"
as if Thomas Hardy and Emily Dickinson
had struggled but ultimately failed in their efforts –
inarticulate wretches that they were,
biting their pens and staring out the window for a clue
Collins, 60, is one of the most popular poets of his time. He commands large audiences at his readings, and his hefty advances from publishers of his books have been well publicized. A native New Yorker, he has taught at Lehman College of the City University of New York since 1969.
Although he published two books with small presses in the 1970s, his career took off with his 1991 collection Questions About Angels. By the end of the decade, he had become a favorite of radio personality Garrison Keillor, who featured him on his programs The Writer's Almanac and A Prairie Home Companion. He also was interviewed on the National Public Radio show Fresh Air, expanding his audience.
Poet laureate of the United States from 2001 to 2003, Collins spearheaded Poetry 180, a project designed to expose high school students to poetry on its own terms, without tests or "correct" interpretations.
The explosion of digital publishing is unlikely to help the cause of poetry, Collins believes, even though it may become the way young people do most of their reading.
"Because of blogs, anyone can get 'published,' which is the good and the bad news depending on which side of the transmission you're on," he said. "The second point is that poetry is literally a poor fit with digital media because poems often have to be squeezed onto a small screen which results in distorting the shape of a poem.
"Poems have sculptural shapes – a certain look on the page – and once you mess with that because you want a bigger type face, then a crucial part of the poem's integrity is lost. … A poem should always carry the shape the poet gave it."
Collins jokingly speaks of "harmonizing" with Vanderbilt writer-in-residence Alice Randall, who has co-written some country music hits.
"Where but Nashville would a person go who wants to give up poetry and break into the country and western songwriting business?" he said. Noting that hard economic times are thought by some to increase the popularity of country music, he takes the opportunity to illustrate how poetry is different.
"Poetry doesn't need to keep up with the news; poetry is the news," he said. "And the news is very simple: Life is beautiful and you are going to die. Read all about it!"
Collins' Sept. 9-21 residency will be the first time Vanderbilt has hosted a poet-in-residence, Daniels said. Collins is curious how things will go. He doesn't believe in over-planning.
"The skirts of the future are always glimpsed disappearing around a corner, so I don't put much stock in fashioning experiences that have yet to happen," he said. "But that said, I can't help but look forward to discovering what the Vanderbilt student is like. Universities have much in common in terms of their lingo and metaphors, but each has a distinctive vibe, and I know I will leave Vanderbilt with its tune playing in my head."