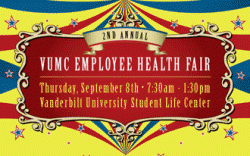 All Vanderbilt University and Vanderbilt University Medical Center employees are invited to attend the Employee Health Fair on Thursday, Sept. 8, from 7:30 a.m. to 1:30 p.m. in the Student Life Center.
Human Resources will have a booth to promote Open Enrollment, and benefits staff will answer questions and show employees the health plans for 2012. Representatives from Aetna, BlueCross BlueShield of Tennessee, Navitus, CIGNA Dental and Superior Vision Services will have booths and be available to answer questions. Later in the month and continuing in October, Human Resources will sponsor Open Enrollment information sessions and computer labs. A full list of upcoming information sessions and enrollment labs can be found on the Open Enrollment website.
Vanderbilt clinics also will share information at the health fair, and Health Plus representatives will be on hand to conduct Know Your Numbers screenings.
All employees who attend the fair and complete an online survey after the event will be eligible to win door prizes. Bring your ID to swipe at the welcome table.
The Student Life Center is located at the corner of 25th Avenue and Vanderbilt Place, across from Memorial Gym. Designated shuttles will run continuously from the Round Wing at Medical Center North and from shuttle lot N.
The Vanderbilt Employee Health Fair is organized by VUMC and Vanderbilt Corporate Relations.
For more information, visit www.vumchealthfair.com.
Contact: Austin Henderson
austin.henderson@vanderbilt.edu