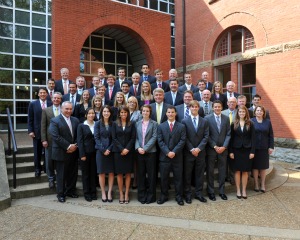 The Vanderbilt Owen Graduate School of Management has launched a new master of accountancy program that focuses on preparing students for a highly sought-after career in valuation services for an international public accounting firm. The MAcc Valuation program is currently recruiting students to join the first class starting in August of 2012.
Responding to an increased demand for students able to handle functions such as assessing mark-to-model values, measuring brand goodwill, and pricing acquisition targets, the new program draws on some of Owen's core academic strengths.
"The master of accountancy program itself has been a great success story, and this next step is a logical one to take," said Jim Bradford, dean of the Owen Graduate School of Management. "[rquote]This innovative new course of study will address the changing world of accounting as it relates to valuing assets and risk.[/rquote]"
Under the guidance of Karl Hackenbrack, faculty director of the MAcc program and assistant dean of evaluation and program development, the valuation track will graduate its first class in the spring of 2013.
The full-time program runs 12 months and includes preparation for two of three levels of the Chartered Financial Analyst exams, as well the Certified Public Accountant exam. Students will have the opportunity to take all three tests while in the program.
"All valuation students aspire to launch their career with an international public accounting firm in service lines that deal primarily with business modeling, transactions and audit support," Hackenbrack said. "This program really is at the nexus of finance and accounting. To succeed in a valuation service line, the professional must understand accounting rules and the finance behind those rules."
Successful applicants must have solid quantitative skills, but also be well equipped to handle client-facing roles, Hackenbrack added.
In 2010, Bloomberg Businessweek's recruiter survey ranked Owen's accounting program fifth among U.S. MBA programs, ahead of institutions such as Harvard Business School and The University of Pennsylvania's Wharton School. This year's 28-person master of accountancy program had a 100 percent job placement rate, in part due to the relationships formed with Vanderbilt's MAcc partner firms, Deloitte, Ernst and Young, Grant Thornton, KPMG and PricewaterhouseCoopers.