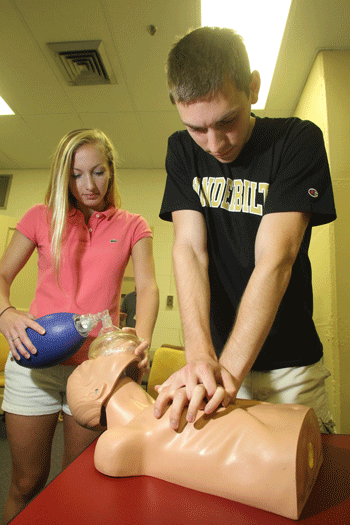 When Kristen Cattoi was 5 years old, she suddenly stopped breathing.
A bad bout of pneumonia combined with croup had compromised her airway. One day at home, she began to choke and became unconscious. Her father rushed her to the house of a nearby neighbor, a doctor, who guided him in performing CPR on Cattoi, saving her life.
The event inspired Cattoi's parents to organize a CPR program at her elementary school, where more than 200 people learned the procedure. Cattoi says at least one of them later used CPR to save a life.
Now a Vanderbilt senior majoring in molecular and cellular biology, Cattoi is on a personal crusade.
"If training 200 people saved at least one life, then I think we can do a lot better at Vanderbilt. There are so many opportunities to train such a diverse group of people here, who knows what sorts of situations they may find themselves in?" asked Cattoi, who learned CPR herself when she got her EMT license at 18.
Beginning Aug. 28, Cattoi and fellow members of the Vanderbilt Emergency Medical Society – a group of undergrads with a passion for pre-hospital care – will teach a free CPR/AED/Heimlich certification class each week at The Martha Rivers Ingram Commons in cooperation with the Vanderbilt Resuscitation Program. Cardiopulmonary resuscitation, automated external defibrillation and the Heimlich maneuver are life-saving skills that form the backbone of emergency medical care, and VEMS wants as many students, faculty and staff members as possible to learn them.
According to the American Heart Association, emergency medical services treat nearly 300,000 people for out-of-hospital cardiac arrest in the U.S. each year, but less than 8 percent survive. CPR given immediately can double or triple a victim's chance of survival, but less than one-third of out-of-hospital cardiac arrest victims receive bystander care.
Each weekly class of two VEMS instructors and 12 participants will be three hours long and earn AHA certification upon completion. VEMS also offers small- and large-group classes for students upon request, and large-scale training sessions for campus organizations. VEMS is working with The Ingram Commons leadership to promote the classes to first-year students in particular.
"Our five-year goal for this program is to train all incoming first-years in CPR," Cattoi said. "Whether they think they want to know it or not, someday they might have to, and we'll at least have given them the opportunity."
The free CPR/AED/Heimlich classes are open to all members of the Vanderbilt community. To sign up, visit http://studentorgs.vanderbilt.edu/vems/cpr.html.