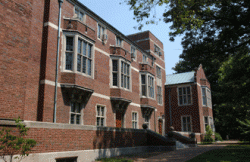 Alumni Memorial Hall on the Vanderbilt campus has been named to the National Register of Historic Places, one of several sites in Middle Tennessee to recently receive the designation from the National Park Service.
The National Register of Historic Places is the official federal list of districts, sites, buildings, structures and objects significant in American history, architecture, archeology, engineering and culture. The register was authorized by the National Historic Preservation Act of 1966. 
Generally, properties eligible for listing are at least 50 years old.
Alumni Hall dates back to 1925 and is included in the national register for its architectural significance. The building represents the Collegiate Gothic style and was designed by well-known Nashville architect Henry C. Hibbs and built by the Foster-Creighton construction firm. A distinguishing feature of Alumni Hall are the names of Vanderbilt's 44 World War I casualties that are carved in the stone fireplaces located in the building's second-floor multipurpose room.
On March 1, 1919, the Vanderbilt Alumni Association board launched a campaign for a new building to memorialize the Vanderbilt men who fought and died in World War I, according to Gone with the Ivy: A Biography of Vanderbilt University by Paul K. Conkin. The proposed building was to serve as an alumni office and social center. The alumni association collected about $240,000 for the building's construction, which was completed in 1925. Alumni Hall was meant to be a focal point of the early campus and served as the university's first student center.
Today, Alumni Hall houses professors' offices as well as those for various campus departments and organizations, including the Vanderbilt Writing Studio, the Faculty Senate, the Vanderbilt International Office and the Department of Alumni Relations.
"Alumni Hall has undergone some modernization and has changed uses over the years, but it still retains its architectural integrity," said Joy Blankenship, who along with Campus Planning and Construction colleague Tony Fort applied for the registration. "Alumni Hall's designation into the National Register of Historic Places honors a significant part of the history of our community."
Alumni Hall joins the Peabody campus, the Old Mechanical Engineering building (now part of Owen Graduate School of Management) and the Old Gym as Vanderbilt sites listed on the national register.