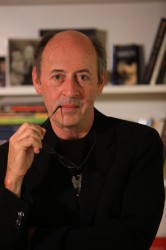 Acclaimed poet Billy Collins will spend a two-week residency at Vanderbilt University this fall, visiting with students, lecturing on poetry as part of Vanderbilt's Saturday University and giving a public reading.
Collins, poet laureate of the United States from 2001 to 2003, has broken sales records for poetry while garnering critical accolades. He has appeared frequently on national radio programs including Fresh Air and Prairie Home Companion. His residency at Vanderbilt is sponsored by the Department of English.
"Although the English Department at Vanderbilt has a long and hallowed history of support for creative writing and writers, beginning with Robert Penn Warren in the 1920s, until now, we have not brought poets to campus for short-term residencies," said Kate Daniels, professor of English and creative writing. "Because of Billy Collins' enormous popularity with readers, and also because of his own affection for Nashville, we think he is the perfect poet to inaugurate what we hope will become a regular practice that will enrich both Vanderbilt and the Nashville community we are part of."
Collins will speak 10:30 a.m. Sept. 10 and 17 as part of Saturday University, an academic outreach program into the community by Vanderbilt. Audience members will experience two lectures by Collins on "The Mechanics of Poetry" as well as question-and-answer sessions. The lectures will be held at 114 Furman Hall on the Vanderbilt campus. Go here to register for Saturday University. Go here for more information.
Collins will read from his work 7 p.m. Friday, Sept. 16, at Wilson Hall on the Vanderbilt campus. This event is free and open to the public and will include a book signing.
In addition, Collins will meet with writing classes and students at Vanderbilt at various private events during the residency.
Collins is the author of nine books of poetry, including Horoscopes for the Dead, Questions about Angels and The Art of Drowning. Born in New York City, he was poet laureate of the United States during the Sept. 11, 2001, attacks and recited his Sept. 11-themed poem The Names to a joint session of Congress.