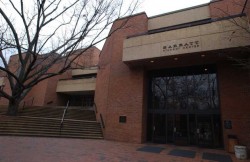 As the Barnes and Noble bookstore takes shape on West End Avenue at the old Borders, Vanderbilt officials are beginning to plan the future of the Sarratt Student Center, a process that will depend on extensive student input.
"Students will be represented on the planning committee, with at least one student representative from Vanderbilt Student Government," said Mark Bandas, associate provost and dean of students. "Students will also be asked to provide feedback via focus groups, surveys, Facebook and campus-wide town hall gatherings."
Gresham Smith and Partners Architects has been retained to do a feasibility study on the use of all space in Sarratt, Bandas said.
Sarratt Student Center opened in 1974.
"We will focus on continuing to make Sarratt a vibrant student center by developing a phased plan with a goal of completing an initial renovation by the fall of 2012, Bandas said.
The Barnes and Noble Bookstore is scheduled to open late in the fall semester. The campus bookstore at Sarratt will remain open for the time being.
Updates on the progress and results of the student feedback will be posted on the Sarratt renovation webpage.