Media Inquiries
Latest Stories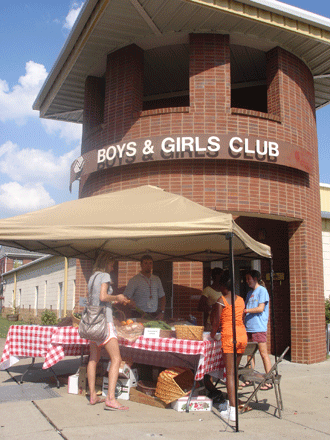 What started five years ago as a dissertation project to examine if increasing access to healthy foods would also increase healthy behaviors in Nashville's impoverished neighborhoods has blossomed into a popular summertime program for area school children and community members alike.
The Veggie Project, supported by the Vanderbilt Children's Health Improvement and Prevention (VCHIP) program at Monroe Carell Jr. Children's Hospital at Vanderbilt, was founded in 2007 by Darcy Freedman, then a Ph.D. student in Vanderbilt's Community Research and Action program. She was seeking to find if families living in areas with a high concentration of poverty – which tend to have a low concentration of grocery stores and poor produce selections – would adopt healthier eating habits if fresh fruits and vegetables were more readily available to them. The Veggie Project established farmers' markets at several Boys and Girls Clubs of Middle Tennessee from June through August and conducted surveys to monitor the impact of the markets on children at the clubs.
"In the first year we found that the markets definitely improved access to food, but they didn't necessarily change behaviors, because there are more barriers to eating healthy than just access," explained Liz Aleman, Healthy Children's program manager at VCHIP.
In response, Veggie Project coordinators developed a strong educational component for the program, instituted financial incentives for shopping at the markets, and sponsored hands-on community outreach events. As a result, the program has expanded to five sites in North, East and South Nashville – all in areas considered "food deserts" – and is more popular than ever with children in these communities and their parents. About 250 children have participated in Veggie Project programming over the last five years, and the markets average about 1,000 customers each summer.
Students ages 6 to 18 at the Veggie Project sites – which this year included the Andrew Jackson Boys and Girls Club, Preston Taylor Ministries, Harvest Hands (hosted at the Vine Hill Community Center), Caldwell Elementary School and Napier Community Center – join a youth leader board and participate in a farm-to-fork curriculum that was developed by a Vanderbilt undergraduate service learning class. One day each week, the youth learn where their food comes from through hands-on activities and field trips that explore the growing, harvesting, packaging, selling and consumption of food. The following day, the students conduct a farmers' market at their site, where they learn to write receipts, interact with customers and other basics of entrepreneurship.
For working at the markets, the students receive "veggie bucks" – vouchers they can use toward the cost of food. Members of the community also can receive veggie bucks by participating in the Super Shopper Program. Super shoppers complete surveys, submit healthy recipes and attend Veggie Project events to earn the vouchers.
"Another barrier we noticed was that customers didn't know how to use some of the produce," Aleman said. Simple, budget-friendly recipes are distributed at the markets – and used by the students as a sales tool.
"Eggplant, for example, is a hard item to sell, but if you give the kids a recipe that uses eggplant, they can move that product," Aleman said. "The kids learn sales skills, and the customers learn how to prepare a new food."
Veggie Project Teaching Kitchens also serve as a popular tool for educating community members in the healthy preparation of food. The series pairs a professional chef and a registered dietician for cooking demonstrations that feature innovative techniques and fresh, locally grown ingredients.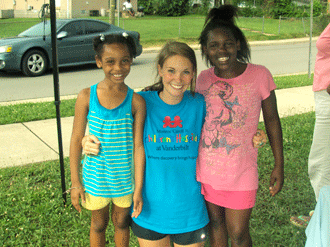 As the Veggie Project has grown, so has interest in VCHIP's internship program giving college-aged students the opportunity to do hands-on programming in the Nashville community. Some 80 applicants from across the country, including one international applicant, vied for just five available positions this summer.
The selected interns run all of the Veggie Project's major components, from overseeing the youth to procuring food from local farmers to analyzing sales, counting money and completing market summaries. These interns conduct pre- and post-project surveys to evaluate the program's effectiveness and write press releases and blog entries to market the Veggie Project to the community.
"The great thing about this opportunity is that interns get to experience the entire gamut of program development, from initial planning to final evaluation, which they wouldn't necessarily get to do in another situation," said Kyle Craig, Healthy Children's program coordinator at VCHIP.
"I wrote my senior thesis on food deserts, which is what we're trying to combat with the Veggie Project," said intern Paige Hopkins, a recent Hendrix College graduate. "From a research perspective, you think the solution is easy – that it's all about increasing access to healthy foods.
"Once you get into the field, you realize it's much more complicated than that," she said. "You have to educate; just getting the food from farm to market is a challenge. There are so many things that I didn't consider before that make the process challenging, but it's even more rewarding once you accomplish them."
"My favorite part has been working with the kids and seeing how you can change their culture in even the smallest way," said Cullen Moran, who led the Andrew Jackson Boys and Girls Club site. "Once a week for an hour, teaching them about what they're eating and where it comes from, can make a difference. However small, it's going to stick with them."
"And they are so passionate about it," added Vanderbilt master's student Lindsay Bowles. "You're kind of battling two stigmas – one, that kids don't like fruits and vegetables; and two, that in this video-game generation, kids don't want to be outside and working. But they loved it. They were so energetic and enthusiastic, and that has just been wonderful."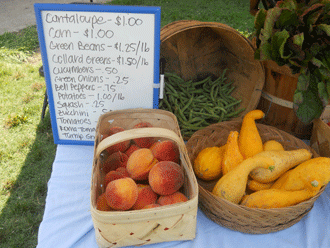 The strength of the internship is one sign that the Veggie Project is making strides toward becoming a self-sustaining program. Another is the profitability of farmers' market sites at Vanderbilt Health One Hundred Oaks and Blakemore Church of the Nazarene, which help to subsidize the markets in other parts of Nashville. Still another is the program's increasing reliance on community gardens, such as the one VCHIP sponsors at Glencliff High School, to inexpensively source its markets.
"One thing that's been interesting is helping folks understand that community programming is not just something that's 'nice to have,' it's something that can become sustainable through smart design," said Kim Harrell, director of VCHIP. "The Veggie Project is now meeting a community demand for fresh fruits and vegetables, and that further fosters the program's sustainability."
Though this year's Veggie Project wrapped up in mid-August, organizers hope to expand the program in the future to match Middle Tennessee's longer May-to-October growing season.
"Our goal is to have the kids involved for a longer period of time than just the summer," Aleman said. "We believe we'll be able to make a much bigger impact that way."
The Veggie Project's future growth will depend on continued support and enthusiasm from the community, Harrell said.
"Vanderbilt Children's Health Improvement and Prevention seeks to do three things in the community: increase knowledge, change behaviors and then change environments, all to improve health outcomes," she said. "We don't go into the community thinking we will operate these programs forever. A measure of the Veggie Project's success over the last five years is that each summer we've been able to nudge it further along toward integration within our various community partnerships."