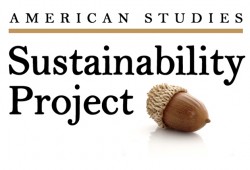 Issues of sustainability will be incorporated into many phases of the coming academic year at Vanderbilt University, including curriculum, a speaker series, documentary film series and field trips.
"The Sustainability Project represents a compelling application of the full diversity of Vanderbilt's academic expertise to one of the most complex and urgent human challenges of our time," said Carolyn Dever, dean of the College of Arts and Science.
"In the year to come and for many years ahead, our shared work on sustainability will change this campus and the world for the better."
The goal is to create a dialogue across all parts of the campus about environmental, social and economic sustainability. Among the activities:
More than 30 classes incorporating sustainability themes will be offered across the university in cooperation with the American Studies program. Offerings include Global Climate Change, Green Cities, Literature and the Environment and Intensive Elementary Spanish with a sustainability focus (a listing of all the course offerings).
A speakers series kicks off Sept. 22 when Bill McKibben, founder of international climate campaign 350.0rg and author of Eaarth and The End of Nature, speaks at 5 p.m. in Ingram Hall at Vanderbilt's Blair School of Music. Other speakers include landscape sculptor Gabriel Warren, clean energy expert Van Jones and Nashville Mayor Karl Dean (more information on the speakers series)
A "Green Bag" luncheon series begins in September, with the Vanderbilt community along with the community at large invited to a series of talks on subjects including alternative transportation, backyard composting and sustainable food and dining choices. Specifics of these luncheons will be released later.
Sustainability-themed films will be shown at Sarratt Cinema during the academic year, sponsored by Vanderbilt's Alternative Energy Club. The first "Green Screen" film is The Last Mountain at 7 p.m. Sept. 21. It is open to the public.
The initiative, coordinated by the American Studies Program at Vanderbilt, is supported by the College of Arts and Science Fant fund.
Teresa Goddu, director of American Studies and associate professor of English, said that sustainability "is the most pressing question of our time." Goddu is an expert in 19th century American literature and is finishing a book on the antislavery movement.
"When I think about the most important social reform needed in our time, it's addressing the issue of global climate change. Your times demand certain things of you. In our lifetime, the call to action is this."
For an updated list of all events go to the Sustainability section of the American Studies website.
The Sustainability Project is also on Facebook at American Studies at Vanderbilt University.