Bluebird on the Mountain concert to feature Dave Berg, George Teren and Annie Mosher Aug. 20
by
Chris Skinker
Aug. 10, 2011, 4:03 PM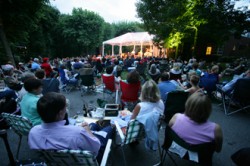 Dave Berg, George Teren and Annie Mosher take the spotlight Saturday, Aug. 20th, for the fourth Bluebird on the Mountain concert of 2011. The performance will take place at Vanderbilt's Dyer Observatory at 8 p.m.  Gates will open at 6 p.m.
A self-proclaimed rocker at heart, Berg moved to Nashville 12 years ago, seeking a career in music, and has since written numerous rock and country hits. In 2008 he received ASCAP's Country Songwriter of the Year award. Berg's songs include "Stupid Boy" (Keith Urban), "Moments" (Emerson Drive), "Somebody" (Reba McEntire) and "These Are My People" (Rodney Atkins).  More recently Jewel, Chris Cagle and Emerson Drive have recorded Berg's songs. Berg has also released a pair of independent albums, Three Perfect Days (1999) and Surface (2003), which allowed him to display his edgier rock 'n' roll side.
Since moving to Nashville in 1987, Teren has amassed an enviable list of songwriting awards including seven No. 1 singles, multiple BMI awards and a Country Music Association award in 2006 for writing the Brad Paisley-Dolly Parton duet "When I Get Where I'm Going." Among his chart-toppers are "Homewrecker" (Gretchen Wilson), "Ladies Love Country Boys" (Trace Adkins) and "Real Good Man" (Tim McGraw).  Teren's songwriting, however, has exceeded the confines of Nashville with artists Brittney Spears, The Backstreet Boys and Avalon having also recorded his compositions.
Rounding out the evening will be Nashville favorite Annie Mosher, who molds her quirky observations of people she's encountered along the way into sophisticated character studies. Her songs include "Sticks and Stones," "Drugstore Perfume" and "Salvation." In 2002 she won the New Folk Songwriters contest at the prestigious Kerrville (Texas) Folk Festival. When not engaged with solo performing and songwriting, Mosher is part of the popular Girls with Guitars group.  Her recordings include Nobody's Child (2004), Annie Mosher (2006) and Welcome to My Birthday (due out in 2011).
Season tickets are available through Ticketmaster and a limited number of advance tickets for single shows are also available through the ticket outlet, which will add a handling fee. Single show tickets are $95 for a carload (for up to eight people). No individual tickets will be available for the series. In the event of severe weather activity, check the Dyer Observatory calendar for updates the day of the concert.
Additional show dates for this season's series are scheduled for Sept. 24 and Oct. 8.  Gates will open at 6 p.m. for the 8 p.m. shows. The Oct. 8 show, however, has a 7 p.m. start time with gates opening at 5:30 p.m.
Visitors are encouraged to bring a blanket, lawn chairs and pack a picnic basket. After the show, visitors can linger to stargaze using the observatory's Seyfert telescope. No RV's or buses will be admitted.
Dyer Observatory is located at 1000 Oman Drive, off Granny White Pike between Old Hickory Boulevard and Otter Creek Road, near Radnor Lake. Directions are available at http://www.dyer.vanderbilt.edu/.
Built in 1953, Dyer Observatory was placed on the National Register of Historic Places in 2009. The property consists of the observatory, 1953 house and garage. The observatory serves as a community resource for the teaching of science as well as a venue for public, private and corporate events.
The series is sponsored in part by Vanderbilt Heart, Nissan USA and Jack Daniels.