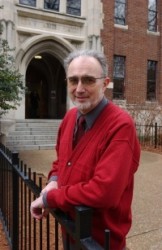 Join Daniel Patte, professor of religious studies and professor of New Testament and early Christianity, as he talks about his involvement with the Cambridge Dictionary of Christianity and about how his views of biblical interpretation and Christianity have changed over the years. Patte edited and contributed to the Dictionary.
The Cambridge Dictionary of Christianity is a comprehensive dictionary of the Christian religion that presents the origins and development of Christianity in more than 2,700 definitive and accessible entries.
Interviewed by Chris Benda, Divinity School librarian.