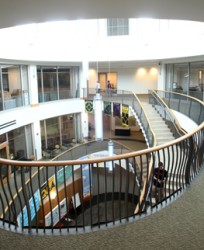 Unpacking  what seems like an endless number of boxes has kept political science professors and staff busy the past week. The entire department has relocated to the Commons Center after completion of the 19,000-square-foot project to build out the three-year-old building's third floor.
The College of Arts and Science project enables, for the first time, all of the political science professors and three flagship research centers to be housed under one roof.  An important goal has been to continue to make The Martha Rivers Ingram Commons a truly integrated living and learning environment for students and faculty.
"We are so lucky to have this wonderful new space as it provides an ideal setting for our research and teaching," said John Geer, Distinguished Professor of Political Science and department chair.
The project includes state-of-the-art classrooms, seminar rooms and study areas for graduate students.  Some rooms offer spectacular third-floor views of campus trees as well as downtown skyscrapers.
Vanderbilt will seek Gold LEED certification for the new addition, which was designed by John TeSelle Architecture. The Commons Center already has energy-efficient mechanical systems, low-flow toilets, a recycling program and many other environmental features.