MTA wants Vanderbilt employee feedback
Aug. 9, 2011, 10:59 AM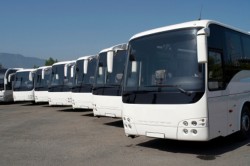 The Nashville Metropolitan Transit Authority (MTA) is holding a third round of community conversations Aug. 24-25 to gain feedback from the public regarding ideas for improving the city's transit investments along the Broadway/West End Corridor.
The community conversations are scheduled to take place at the East Park Community Center on Aug. 24 from 11 a.m. to 1 p.m. and at the East Branch Library on Aug. 25 from 5 to 7 p.m.
Specific items to be discussed include potential routes along the corridor as well as the modes being considered: modern streetcar, light rail and bus rapid transit.
MTA officials are encouraging people who frequent the corridor to attend the meetings to provide comments on the transit alternatives being considered. A brief presentation about the project will be provided during the meetings and attendees will have an opportunity to provide their input and feedback.
"As Nashville grows, so will our transportation needs. That is why we must look at ways to improve mass transit options along the Broadway/West End corridor," Nashville Mayor Karl Dean said. "Commuters, residents and business owners are an important part of the conversation as we consider how to help people travel across Music City in a sustainable, economical way."
The specific area of the study begins at Five Points in East Nashville and extends down Broadway, West End and Harding Road to White Bridge Road.
The study will examine all feasible options along the corridor and then identify a preferred transportation choice such as modern streetcar, light rail or bus rapid transit.  This effort is intended to make Metro Nashville more competitive with other cities for federal funding.
"The Broadway/West End corridor is an economic catalyst that drives this city," Nashville MTA CEO Paul J. Ballard said. "It makes sense that as we begin to think more proactively about what our public transportation network will look like in the future and what types of transportation investments we will need to make, that we would look at the Broadway/West End corridor first."
Please note that attendance at these meetings is not required for comment.  Individuals also may mail comments to MTA Planning Department, attn:  Public Meeting Comments, 130 Nestor St., Nashville, Tenn.  37210, fax comments to 862-6208, call Customer Care at 862-5950 or email them to to mta.publicmeetings@nashville.gov.  For ADA accessibility information, contact: ADA Coordinator, 130 Nestor Street, Nashville, TN   37210, (615) 862-5950.
Contacts:
Patricia Harris-Morehead, (615) 880-3943
Wendy Smith, (615) 862-6194