In Conversation
by
Jim Patterson
Aug. 1, 2011, 12:58 AM
Tim Corbin reflects on the best baseball team in school history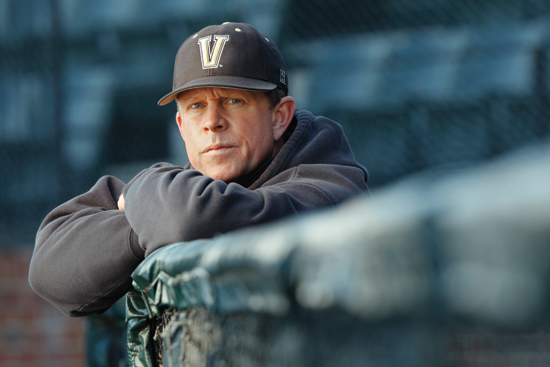 For a head baseball coach, Tim Corbin quite easily slides away from the topic of baseball during conversation. Coming off his ninth and best season at Vanderbilt (and the most successful season in the history of the university's baseball program), it would be understandable if he chose to reminisce just a little longer about a team that went 54-12, finished third in the nation and got tantalizingly close to a national championship at the College World Series in Omaha, Neb.
But no. Popeye forearms bulging out of his black Vanderbilt T-shirt in his office overlooking the baseball field, he speaks about his pride in his players' scholastic achievements, the joy he finds in teaching and how he finds measures of success afield of the baseball diamond.
"When you run a clean program, one in which there is winning going on in the classroom and also on the field, it becomes like a very quiet machine," he said. "You don't hear much about the kids because they're on a very good routine. … Being successful in the win-loss column is important, but to make a program fulfilling is much more complex. I would say it's everything that goes along with raising a child. You want him to grow up, learn within and become a productive part of society's puzzle."
Corbin's summers are all about recruitment. When not on the road checking out talent, he tends to be showing potential Vanderbilt players around the Commodore baseball facility. At times he refers to recruiting season as "one big cluster of hell" because of the growing roles of outside advisers and agents on top of competition from other schools. His pitch to recruits emphasizes the learning environment at Vanderbilt, the way it combines "an Ivy League education and an SEC athletic education."
"I can tell them honestly about seeing kids come here and experiencing more success academically than they ever thought they would," Corbin said. "They learn to tap into mental skills they didn't know existed. And the reason they did is that they took an interest in the class. The reason they took an interest in the class is because they developed a relationship with the professor. And the reason they developed a relationship with the professor is that the school allows you to do it because you're working in smaller class sizes.
"A lot of kids come here with visions of going to school, playing baseball and then playing professional baseball. But we try to sell the total package. Yes, you may get an opportunity to play professional baseball, but you're going to do it with a lottery ticket in your back pocket – and that's your degree from Vanderbilt."
The part of the job Corbin savors is the day-in, day-out mentoring. "I've never had sons (he has two stepdaughters), so I look at these kids as sons," he said. "Coaching has everything – humor, discipline, standards, guidelines, sorrow and laughter."
Many of Corbin's signs of success have nothing to do with national rankings. He loves it that many of his players frequently show up at 12:30 p.m. for a 2:30 p.m.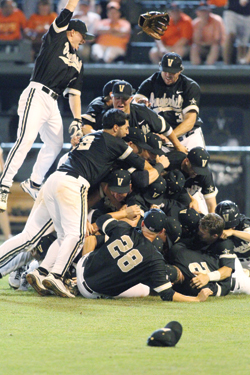 workout. He's thrilled with the frequent presence of former players – some now in professional baseball – who choose to work out at Vanderbilt during their off-season. Success, he says, is having players who thrive in the culture he creates, one that emphasizes the sublimation of individual egos in search of a larger purpose.
"It takes a lot of effort for 18- to 20-year-old boys to drop their ego and say, 'What can I do for someone else today?'" Corbin said. "Most young males are not wired that way."
Finishing third in the nation was a great accomplishment, but not the most important milestone of last season, said Corbin, who was hired as Vanderbilt's head coach after nine seasons as an assistant coach at Clemson.
"We finished third in the country with no (negative) incidents," he points out. "We finished third in the country with over a 3.0 grade point average. We finished third in the country with a group of kids who will stay friends forever."
Corbin professes confidence about next season, even though he has no idea how much of his pitching staff will be tempted into signing professional contracts. Twelve members of his current squad were drafted by major league teams, a Southeastern Conference record. Next year's team might do better or worse than this year's squad, but Corbin has every expectation that his players will be lifetime winners, in part because of their immersion in the Vanderbilt baseball program.
"I tell them that this isn't a job, these are the greatest days of your lives," Corbin said. "A job is getting underneath a car and changing the caruburetor."