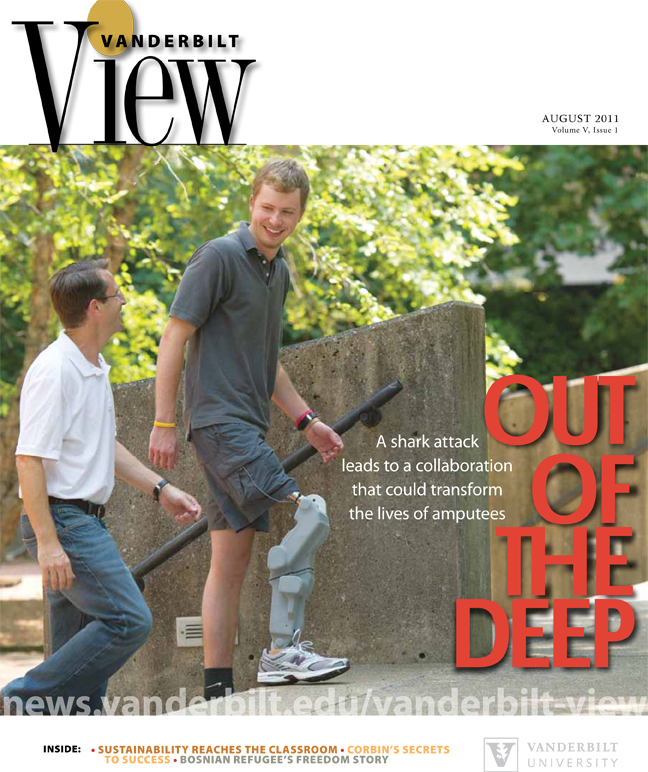 As you can see, the Vanderbilt View underwent a transformation over the summer. Not a full-blown overhaul by any means, but a little nip and tuck nonetheless. As you might imagine, we're doing our best to save trees and money. But that's not our only motivation.
Since the View launched in 2007, Vanderbilt's online presence has expanded, as has its ability to communicate in real time to staff and faculty. Where we once relied primarily on print products to tell our stories, now there are multiple platforms for getting the word out.
Vanderbilt communicates with its community digitally through the myVU website, through e-mail messages such as myVU Preview and MyVUMC, through emergency text alerts via AlertVU and delivers breaking news on Facebook and Twitter (@VanderbiltU). But has this onset of technology rendered the printed word somehow less relevant? Just the opposite.
You see, each platform has its own strengths and weaknesses. None can meet the needs of all of our readers at any one time. The good news is that each is linked to the other, and if we capitalize on those connections, we can do more together than we can alone.
That explains some of our new design elements, which are meant to point readers to our online partners, where a deep well of rich content awaits. These partners make us better, and us them.
Another change you'll notice is that our longstanding back-page department "The Last Word" has been lengthened and renamed "What's Your Story?" We think the idea behind this is pretty self-evident. Everybody has a story. Everybody. And we want to hear yours.
Tweaks aside, the View's mission remains the same: to inspire, motivate and promote a sense of community at Vanderbilt. We hope you read every issue cover to cover, whether it's our print publication or online. But don't stop there. Visit the Vanderbilt homepage, the news page and myVU. From there, jump to Vanderbilt's Facebook and Twitter pages and take a gander.
Better yet, join the conversation. We'll be waiting to hear from you.