Snjezana Bojic, What's Your Story?
by
Donna B. Smith
Aug. 1, 2011, 12:53 AM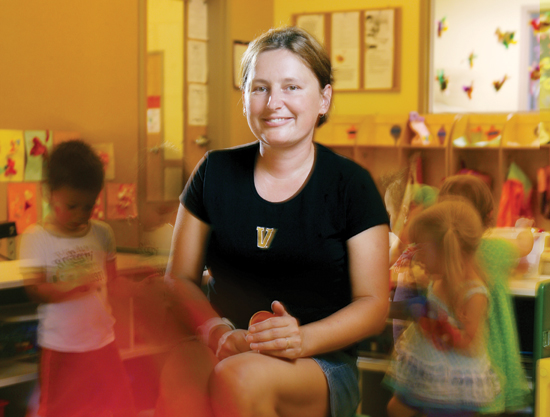 Seventeen years ago, Snjezana Bojic left her home in war-torn Bosnia as a refugee looking to escape the brutality and deprivation of that devastating conflict.
She was 22 years old, and it was the second year of a war characterized by genocide, ethnic cleansing, massive casualties and displaced people.
"It was very hard living there, and it looked like the war was never going to stop," Bojic said. "So my boyfriend and I decided to get married and leave. We felt we had no other choice if we wanted to have a better life."
They fled to Germany, where their daughter and son were born. But after three and a half years, when Bosnian refugees were forced to leave Germany, Bojic and her husband seized on an opportunity to come to the United States. They chose the Nashville area because they had friends here.
"The first year was a little bit rough for us," Bojic said. "I didn't know English. All I could say was 'hi,' 'bye' and 'excuse me,'" she laughed. But Bojic started attending an English class at a local church. The teacher struggled to pronounce "Snjezana" and asked if she could just call her "Zana." The nickname stuck. "I know how hard it is to pronounce words in another language," Bojic said, "so I became Zana for everyone."
Getting a good job was also a challenge, but when Bojic started working in day care, she found her calling. She worked with La Petite Academy for several years before joining the Vanderbilt Child and Family Center.
"Miss Zana" is adored by the 2-year-olds in her class. "They are like my own children and I love them," she said. "I have lots of time every day with them, and I try to make them happy. We play and we learn."
Bojic lives in Pleasant View, where her vegetable garden provides a peaceful escape. "I have lots of rabbits in my yard, though," she laughed, "so it may be food for rabbits!"
Over the years, Bojic's parents and in-laws have visited a couple of times, and she and her husband talked about going back to visit Bosnia, but the expense of traveling was always daunting. "Finally we said, 'We can't wait any more. We're going to go, and we'll pay off the bills later.'"
Earlier this year, Bojic made her way back to the country she fled 17 years ago. Her teenage children met many family members for the first time and had a chance to practice speaking the Bosnian language.
Although life has changed dramatically for Bojic, Bosnia continues to struggle. "For me it was sad," she said. "There is no war, but there are no jobs and still you can feel the tensions."
The trip gave Bojic, her husband and their kids the opportunity to travel to Germany and to France, including a quick trip to Paris and the Louvre. After three weeks touring Europe, Bojic was ready to get back to Tennessee – to her garden and her classroom.
"This is my home," she said. "I'm so happy here."
Do you have a fascinating story or life experience you'd like to share? Email Editor Joan Brasher at joan.brasher@vanderbilt.edu.