Faculty-Staff Campaign raises more than $1.3 million in pledges
Jul. 21, 2011, 12:15 PM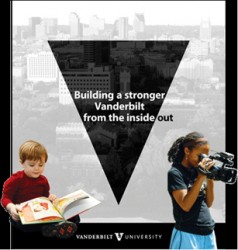 More than 1,500 Vanderbilt employees contributed to the the 2011 Faculty-Staff Campaign, raising more than $1.3 million in pledges.
The Faculty-Staff Campaign is an opportunity for employees to support the school, program or organization of their choice at Vanderbilt. It was led this year by co-chairs Diane Banks and Marshall Eakin, professor of history.
This year's campaign raised $350,000 more than the one held last year.
"It has been a privilege to serve as co-chair of this year's Faculty-Staff Campaign," Banks said. "Many thanks to the department coordinators for the amazing job they have done this year and we are grateful for the wonderful contributions despite the realities of these difficult times."
For additional information please contact the campaign office at 3-8759 or fsc.office@vanderbilt.edu.