Math journal ranked in top ten
Jul. 19, 2011, 5:19 PM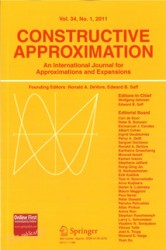 Constructive Approximation, an internationally recognized mathematics journal headquartered in the Vanderbilt Department of Mathematics, was ranked No. 10 out of 277 mathematics journals by Journal Citation Reports.
Journal Citation Reports ranks mathematics and other scientific journals based on their impact factor: the frequency with which their articles are cited in other scientific journals and books in the same field. Impact factor is generally considered to be a measure of research quality.
The annual ranking was based on data from 2010. In the previous year, the journal was ranked No. 14.
Constructive Approximation is published and distributed internationally by Springer, with the editorial office located at Vanderbilt in the Center for Constructive Approximation within the Department of Mathematics. The journal deals with mathematical approximations, expansions and related research and applications.
"Constructive Approximation has always been respected as a premier journal, and it is gratifying to see its ranking rise to the top ten," said Ed Saff, the journal's editor-in-chief and co-founder and Vanderbilt professor of mathematics.
"I attribute our success to the outstanding members of the editorial board, who are recognized leaders in the areas covered by the journal. They put every submitted paper through a rigorous peer review process and accept only the top papers in the field," he said.
Contact: Pam Jones, (615) 343-4107