Media Inquiries
Latest Stories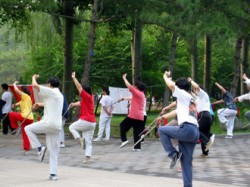 Vanderbilt professor Lijun Ma will share his expertise on the subject of Tai Chi, an ancient Chinese approach to achieving mind and body relaxation through balance, strength and flexibility. The discussion will cover:
the principles of Yin/Yang philosophy of complementary and interdependent opposites
recent scientific evidence of the beneficial effects on chronic diseases of practicing Tai Chi
the balance between movement and tranquility, and between breath and relaxation
Dr. Ma also will teach several Tai Chi movements to participants of this class.
The class meets Thursday, July 21, from noon to 1 p.m. in Medical Center East, Room 8380A. Health Plus offers Tai Chi classes taught by Ma on Mondays and Fridays.
This class is part of the Life Phase Presentation Series. Health Plus is part of Faculty and Staff Health and Wellness.